Making her mark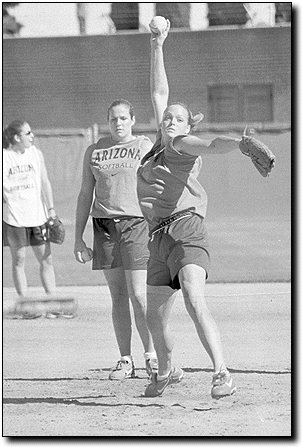 Eric M. Jukelevics
Arizona Daily Wildcat

Freshman pitcher/first base Jennie Finch (right) practices her pitching as pitcher Becky Lemke looks on during practice last Tuesday. The week of April 5, Finch along with sophomore teammate third baseman Toni Mascarenas swept Pacific 10 Conference recognition by earning the Pac-10 pitcher and player of the week.


Whether UA freshman Jennie Finch steps up to the plate or takes the mound, she always makes an impact. The week of April 5, Finch, along with sophomore third baseman Toni Mascarenas, swept the Pacific 10 Conference softball pitcher and player of the week awards.

Finch, who pitches and plays first base, allowed only two hits in the No. 3-ranked Wildcats' (42-12 overall, 14-8 Pac-10) 2-1 victory at No. 7 Arizona State April 3.

She had a no-hitter up until the seventh inning when she allowed two hits and one unearned run. Finch (19-6) also struck out five and walked one, while scoring the game-winning RBI in UA's two-run fourth inning.

Even more recently, although she added two losses to her record at the Bay Area schools, she displayed her power again with a two-run homer against Stanford.

"I'm just trying to do my part for the team," Finch said. "I do my job on the mound and then do what I can at the plate, always working on helping the team anyway I can."

In the home series against No. 13 California (33-14, 4-9) and No. 10-ranked Stanford (32-15, 4-10) April 16-17, Finch added some impressive stats to her name once again.

In the second game against the Golden Bears April 16, Finch struggled a bit, allowing 10 hits, but she stuck it out and made up for it offensively with a short ground ball that drove in the winning run in the Wildcats' 3-2 victory. Finch had also contributed to the UA's only two runs in its 4-2 first game loss with a two-run double.

"Jennie is just an awesome player," sophomore center fielder Nicole Giordano said. "She can pitch, she can play infield and she can hit for power."

Against the Cardinal April 17 in the same home series, Finch had a five-hit shut-out in the Wildcats' second game, a 2-0 victory. She went beyond her mound performance to intensify the Wildcats' win with a solo home run to give UA some insurance in the bottom of the sixth.

"She's a great contribution to our team," Giordano said. "I feel she can only get better over time."

Finch began her career as a Wildcat after graduating last May from La Mirada High School in La Mirada, Calif.

"I chose the UA because of its tradition in softball," she said. "And the coach (UA head coach Mike Candrea)."

Candrea seems to be just as pleased with Finch's decision to be a Wildcat, and continues working with her inexperience with collegiate play.

"I think Jennie is doing a good job, she's making steps," he said. "Jennie showed a lot more toughness and composure than she has in the past (at Cal and Stanford).

"That's a big thing with her right now, if she makes a mistake right now, she's not used to getting hit because she wasn't in high school and then you get to the Pac-10 where everybody hits you. She needs to just stay in there and keep competing and plug the dam as quick as she can."

In high school, Finch earned four letters in softball for four different coaches as a pitcher, first baseman and shortstop. In 1998 she was named La Mirada Female Athlete of the Year, as well as picking up the Athletics Directors Association Female Athlete Award and she was named team MVP.

"The biggest adjustment has been not dealing with just batters one through four being good, but the whole line-up being strong," Finch said of her switch from high school to collegiate play. "I've also learned to wait on the ball when I am hitting."

A big help in the adjustment factor for Finch has been the advice of former Wildcat pitcher and volunteer assistant coach Nancy Evans.

"She's faced most of the batters," Finch said. "So she puts in her input on who to watch for. And she adds how to pitch based on her experience."

Evans added that she never minds lending advice to the players, and wishes more would come to her.

"I give them my past perspective," she said. "And just try to help them any way I can."

Candrea was in agreement that Finch only needs more experience and words of wisdom to improve her play.

"She has a tendency to get a little frustrated, to let her emotions take over," he said. "But I'm real pleased with her progress to date.

"A lot of our young kids want everything now, they don't have the understanding it takes time, it takes persistence."

And just as Candrea is pleased with her progress, he is also confident that Finch can handle things in the last three home series of the season, as No. 1 UCLA, No. 5 Washington and Arizona State visit UA in the next two weekends.

"Right now I've got a lot of confidence," Candrea said. "She's pitched against UCLA already and Washington was her worst start of the year, but she's done well since then.

"I'm very, very pleased with Jenny. Right now the one thing I'd like to see her do is get one percent better every time she goes out."

Kate Longworth can be reached at Kate.Longworth@wildcat.arizona.edu.