Attorney describes horrors of female genital mutilation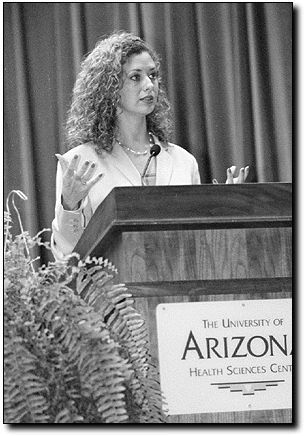 Leigh-Anne Brown
Arizona Daily Wildcat

Layli Miller Bashir, a Wash., D.C., attorney, spoke about female genital mutilation at University Medical Center Saturday night. According to Bashir, this procedure is performed on 6,000 girls a day.


After fleeing her native country of Togo to escape a customary procedure known as female circumcision, Fauziya Kassindja found herself in a U.S. jail for violating immigration laws.

Layli Miller Bashir, who spoke Saturday evening to an audience of about 50 at University Medical Center's DuVal Auditorium, described how she fought to free Kassindja, who ultimately was granted asylum from returning to face the traditionally African custom.

"Female genital mutilation is inflicted on two million girls each year, 6,000 per day or five every minute," said Bashir, a Washington, D.C.-based attorney.

The procedure, performed in 28 African and several Asian countries, involves removing the clitoris and all sexual sensory organs and is often done without the use of an anesthetic or sanitary instruments, she said.

The widespread mutilation is proscribed by these cultures as a way of ensuring the female's virginity.

After the procedure, patients are often treated with such "cures" as pouring boiling water or placing cow dung on the wound, or by binding them from hips to knees for 30-40 days, Bashir said. About 15 to 30 percent of all women who undergo the operation die, she said.

The attorney began investigating the custom in 1995, when she heard that 17-year-old Kassindja had come to America seeking asylum to avoid the ritual.

Although the operation is usually performed at a young age, Kassindja escaped the ritual because of her father's opposition.

When he died, Kassindja went to live with her aunt and uncle because her mother belonged to another tribe, and by custom was not allowed to care for her daughter.

Within several months, Kassindja's new caretakers arranged for her to marry a 45-year-old man who already had three wives. She was to undergo the procedure the next day.

When they heard of the dilemma, Kassindja's mother and sister helped her escape by kidnapping her, taking her across the border to Ghana and putting her on a plane to Germany.

Kassindja met a Nigerian who offered her a British passport so she could fly to the United States and seek asylum. She accepted the offer, but when Kassindja arrived in America, Immigration and Naturalization Services arrested and imprisoned her for 16 months.

"She was told her reasons for wanting to come to the United States were dumb," Bashir said. "She should get back on the plane she came on or she should go to prison."

Bashir met Kassindja the day of her first immigration hearing, during which the judge denied her asylum and dismissed her story as a lie.

Her new-found friend and advocate sought the pro bono help of the American University's Washington College of Law to argue Kassindja's case. Eight months after the first hearing, Kassindja and Bashir appeared in court together to appeal the original decision and won.

Kassindja's case established a precedent for future women seeking asylum on the basis of gender persecution. Previously, Canada and France had been the only countries to acknowledge female genital mutilation as a basis for asylum.

With Bashir's help, Kassinja shared her story in the book, Do They Hear You When You Cry?

Saturday's speech focused not only on Kassindja's story, but on the measures necessary to eliminate unjust, gender-based practices from society.

"Female circumcision is a symptom of a much larger societal problem", Bashir said.

Such widespread prejudices will change only when individuals change, said Bashir, who founded the Tahirih Justice Center to help women facing human rights abuses.

"As humankind we have amazing physical capacities," she said. "We can annihilate ourselves, we can give birth to wonderful new technology ... but somehow we lack the moral, spiritual and intellectual maturity to balance the use of these physical qualities."

American Board of Sexology member Hanny Lightfoot-Klein, who attended the event, concurred with Bashir's summons to purge society of its biases.

"It only takes one act of courage," said Lightfoot-Klein, author of Prisoners of Ritual: An Odyssey Into Female Genital Circumcision in Africa.

Stephanie Corns and Sarah Spivack can be reached via e-mail at Stephanie.Corns@wildcat.arizona.edu, or Sarah.Spivack@wildcat.arizona.edu.