Collision sends motorcyclists to hospital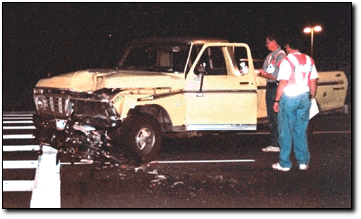 Leigh-Anne Brown
Arizona Daily Wildcat

A truck collided with two people on a motorcycle near Third Avenue and Speedway Boulevard Saturday night. Police say alcohol was involved.


A traffic accident at the intersection of East Speedway Boulevard and North Third Avenue Saturday night landed a 19-year-old man in the hospital with critical injuries.

Mark Riley, 43, who was driving west on Speedway Boulevard at about 8 p.m., attempted to make a left hand turn on to Third Avenue without yielding to oncoming traffic, police said. Riley's truck barreled into a motorcycle going east on Speedway Boulevard, pulling its driver and a passenger underneath the truck.

The motorcycle driver, a 19-year-old man, was in critical condition last night at University Medical Center. The medical condition of the 18- to 20-year-old female passenger was unknown, said Sgt. Judy Altieri, of the Tucson Police Department.

"She might have been transported and released," Altieri said. "We don't know if they are UA students."

She also was unsure whether the driver or passenger were wearing helmets.

"He (the motorcycle driver) is in critical condition," said Lori Mare, clinical supervisor at University Medical Center. "I don't know the condition of the female (motorcycle passenger)."

Altieri said the driver of the truck sustained minor injuries.

"There was alcohol involved with the driver of the truck," Altieri said. Riley was booked into Pima County Jail on suspicion of aggravated assault with a deadly weapon, serious physical injury and criminal damage, she said.

TPD would not release any other information on the accident or the victims yesterday.

Liz Dailey can be reached via e-mail at Liz.Dailey@wildcat.arizona.edu.