Day of activities gives underprivledged kids a taste of life on the UA campus
By Erin Mahoney
Arizona Daily Wildcat
September 14, 1998


Send comments to:
city@wildcat.arizona.edu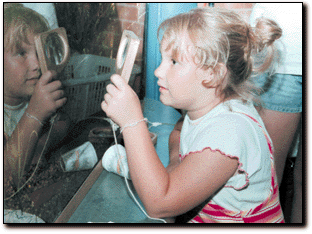 Wildcat File Photo
Arizona Daily Wildcat

Kristy Mangos/Arizona Daily Wildcat Six-year-old Corinan Nelson observes some fish during Saturday's Camp Wildcat-sponsored visit to Flandrau Science Center and Planetarium. Along with "Flandrau Day," Camp Wildcat organizes many camps and activities for underprivileged and disabled children.


This weekend UA Camp Wildcat members found a way to make underprivileged children see stars.

At Saturday's Camp Wildcat-sponsored "Flandrau Day," 15 Campfire boys and girls got a glimpse of the stars and college life at Flandrau Science Center and Planetarium. Camp Wildcat, a 30-year-old organization, runs camps for under-privileged and disabled children who otherwise could not enjoy such activities.

Before attending a star show at Flandrau, Camp Wildcat counselors led the children around campus and began the day with songs, activities, arts and crafts.

The purpose of the event was to help the children "have fun with college students and learn what the university has to offer," said Activities Director Elisa Wershba.

Wershba, a media arts junior, said she has high hopes for the year.

"I want to introduce kids to different aspects of the university," she said.

Nine-year-old Claudia Caire, a student at Rio Vista elementary school, said she was excited about her day on the campus.

"I've never been here before," she said. "I was too embarrassed to sing, though."

Second-grader Eric Tuccio was impressed by the program, and said he was excited to see the planetarium.

"I like hanging out with all these older kids," he said. "They're pretty cool."

Some older students, like Catalina High School freshman Cherie Jones, came to check out the UA campus.

The children participate in the Camp Fire program or attend the Open-Inn Runaway Center. The event was made possible by a grant from the Flandrau Planetarium, Wershba said.

Counselors seemed pleased with the event.

"I thought the kids might feel pressured by the ratio of (counselors) to kids," said Camp Wildcat's Campus Relations Director Donald Keeran, an engineering junior. "But they seem to be having a really good time, and that's what we're here for."

Erin Mahoney can be reached via e-mail at Erin.Mahoney@wildcat.arizona.edu.