Volleyball 8-0 going into Pac-10 play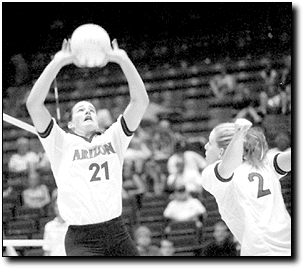 Nicholas Valenzuela
Arizona Daily Wildcat

UA freshman setter Dana Burkholder (21) sets a ball for freshman middle blocker Erin Sebbas (2) during Saturday afternoon's match against Portland State. The UA volleyball team won all four of its games during the Varsity Clubs of America Classic which was held at McKale Friday and Saturday.


The Arizona volleyball team finished its non-conference schedule by winning the Varsity Clubs of America Classic at the McKale Center this weekend. The Wildcats improved their record to a perfect 8-0 as the Pacific 10 Conference season opens Friday.

Keisha Johnson Demps was named the tournament's most valuable player, the second consecutive weekend she has received such an award. The Pac-10 Player of the Week from last week had 20 kills in Arizona's come-from-behind victory over Idaho in the final match Saturday.

"We all started to panic a little," Johnson Demps said. "During the break, we talked as a team and came out and showed a lot of heart and character."

Arizona defeated Idaho 7-15, 4-15, 15-10, 15-10, 15-12 Saturday night. Earlier in the day, the Wildcats knocked off Portland State 15-8, 15-8, 15-11.

Idaho finished second in the tournament at 3-1. They were followed by Western Michigan (2-2), Portland State (1-3) and Massachusetts (0-4).

Freshman setter Dana Burkholder, who had 142 assists and 18 kills in four matches, was also named to the All-Tournament Team.

"I feel fortunate to come out of the (Idaho) match with a win," UA head coach David Rubio said. "Idaho came out very well prepared. By all rights, we could have lost."

On the other hand, the young team pulled together well when things didn't go its way against Idaho.

"We've seen our kids really mature," Rubio said. "It was interesting to see who would step up and play for us each night."

Sophomore outside hitter Allison Napier collected 16 kills against Idaho.

"Ally was superb out there, she really did well," Johnson Demps said.

Junior Raelene Elam had 12 kills against Idaho, 11 against UMass and 10 against Western Michigan. Sophomore Marisa DaLee had a game-high 16 kills against UMass.

Going into Pac-10 play next weekend on the road against the Washington schools, it was important for the team to get as many matches under its belt that it could. Rubio said that it's impossible to practice things like being down two sets, and the only way to learn is by experiencing that kind of situation.

"The team is evolving. Tonight, we took good steps towards being a good team. I feel pretty good about how we're doing," he said.

On Friday, Arizona defeated Western Michigan 16-14, 15-9, 15-7, and UMass 15-10, 15-7, 9-15, 15-6.

"We're definitely excited by the fact that we won," assistant coach Charita Johnson said. "It took us two games to learn how to pass the ball against Idaho, but we did a great job. We never gave up and fought hard."

Johnson Demps, coming off an MVP performance in last weekend's tournament in Fort Collins, Colo., was caught off guard by winning the award this weekend. She played excellent defense throughout the entire tournament, but seemed frustrated with her offense, despite her 58 kills over the weekend.

"I'm surprised about this one," she said. "I was struggling on offense, and that's supposed to be my strong point."

Bryan Rosenbaum can be reached via e-mail at Bryan.Rosenbaum@wildcat.arizona.edu.