The right stuff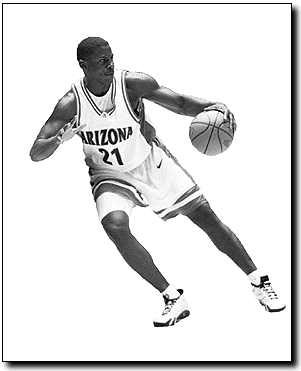 Arizona Daily Wildcat
Michael Wright Men's basketball power forward 1998-99 stats: 13.9 points per game, 8.8 rebounds per game Honors/records: Pac-10 Freshman of the Year
This season saw the emergence of several freshmen athletes who have shown their capability of carrying the torch left by the departing seniors.
Men's basketball forward Michael Wright, volley ball setter Dana Burkholder, baseball right fielder Shelley Duncan and softball pitcher Jennie Finch were four players who stepped in and stepped up immediately this season.
Wright, the Pacific 10 Conference Freshman of the Year, averaged 13.9 points and 8.8 rebounds per game.
"He's a great player," UA head coach Lute Olson said. "Once he gets the ball inside there, he has to punish people."
Duncan currently has 18 home runs and 62 runs batted in, and was named First Team Freshman All-American at midseason by Baseball America.
He broke the record for home runs by a freshman earlier this season.
"It is nice for Shelley, but he doesn't care," UA head coach Jerry Stitt said of the record. "You want to have power in the middle of the lineup. Power is defined by how hard you hit, not how far you hit it. I hope he becomes a combination of a guy that can drive the ball and hit home runs."
Burkholder earned All-Pac-10 freshman honors and All-Pac-10 honorable mention, setting Arizona freshman records for matches played (29), matches started (29), assists (1,346) and digs (309). She played in every point of every match.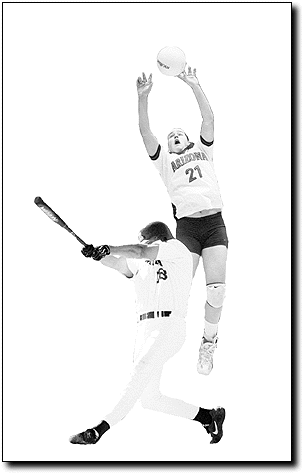 Arizona Daily Wildcat

Shelley Duncan Baseball right fielder 1999 stats: .296 average, 18 home runs, 62 RBI Honors/records: set UA freshman record for HR, RBI

Dana Burkholder Volleyball setter 1998 stats: 29 matches played, 29 matches started, 1,346 assists, 309 digs Honors/records: member of All-Pac-10 Freshman team

"It's been pretty awesome," Burkholder said after her first month of college, when she had 572 assists in eight games. "I love everything about the school and volleyball program.

"We have a lot of young people here learning fast and the coaches have given us a good base."

Finch is the No. 2 starting pitcher for the softball team and currently has a 2.91 ERA and a 20-7 record.

"I'm just trying to do my part for the team," she said. "I do my job on the mound and then do what I can at the plate, always working on helping the team anyway I can."

Other freshmen who made immediate contributions this season were men's basketball forward Richard Jefferson and guard Ruben Douglas, women's basketball center Elizabeth Pickney and guard Julie Brase, football defensive tackle Keoni Fraser, women's swimmer Sarah Tolar and cross country runner Tara Chaplin.

This fall will see a talented crop of new recruits, all trying to top last year's freshman class.

At the top of the list are men's basketball guards Jason Gardner and Gilbert Arenas.

"Coach (Lute) Olson is a great coach," Gardner said. "He lets guards play within the offense. I like the up-tempo game. It just gives me the opportunity to do a lot more things."

Gardner is expected to slide into the point guard spot vacated by Jason Terry, while Arenas will compete with Douglas and junior college transfer Lamont Frazier at the shooting guard spot.

Not to be outdone, the Arizona football team, coming off its record 12-1 season, landed one of its best recruiting classes ever, led by linebacker Joseph Siofele.

"What Joe represents is not just a football recruit," head coach Dick Tomey said. "He's also an outstanding student. He had a 4.0 GPA and scored high on the SAT; he can get into Stanford."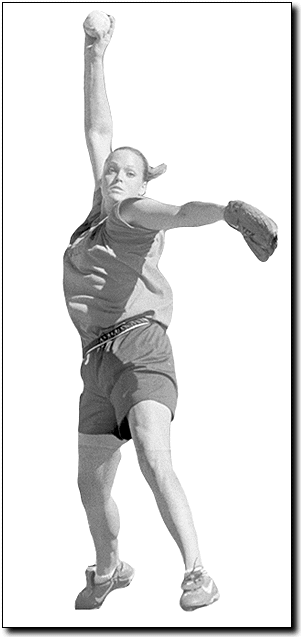 Arizona Daily Wildcat

Jennie Finch Softball pitcher/first baseman 1999 stats: 20-7, 2.91 ERA Honors/records set: Pac-10 pitcher of the week, April 5

Tomey said Siofele was "as highly recruited as anyone we got."

The football team's biggest in-state recruit was running back Bobby Wade of Desert Vista High School in Phoenix.

"Bobby is as good an all-around football player as I've seen in the state in my time at Arizona," Tomey said.

The UA swimming team landed two huge recruits in gold medal winners Amanda Beard and Beth Botsford, who took home their medals while only 15-years-old at the 1996 Olympics in Atlanta.

"I loved everything about the UA," Botsford said. "The coaches were great, the girls on the team were so much fun and the campus was absolutely gorgeous. Plus, you can't beat the weather."

Not to be outdone, the UA baseball team is bringing in another outstanding recruiting class, led by Chris Duncan, Shelley's younger brother.

"I was super excited having my brother come play with me here and be a Wildcat, too," Shelley Duncan said. "He's going to bring some leadership, some enthusiasm, some fun to the team. He's a real great guy."

Stitt echoed Duncan's praise of his younger brother.

"Chris is one of the top players in the state and one of the finest players in the country," Stitt said. "He's a big left-handed hitter with tremendous power."

All-Arizona infielder Matt Abram was the other major recruit for UA for 2000.

"Matt, he's probably the best pure hitter I've seen in a long time," Stitt said. "He can also play second or third and is a good athlete."

Bryan Rosenbaum and Chris Jackson can be reached at Bryan.Rosenbaum@wildcat.arizona.edu and Chris.Jackson@wildcat.arizona.edu, respectively.