Nduwimana blazes through track season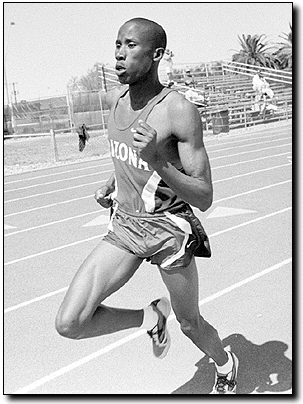 Nicholas Valenzuela
Arizona Daily Wildcat

Patrick Nduwimana runs in the Sun Angel Classic earlier this year. Nduwimana's time of 1:46.48 was the top collegiate time in the nation this season and an automatic NCAA qualifying time.


Remaining meets: Pac-10 Championships in Tempe May 21-22; NCAA Championships in Boise June 2-5

UA track and field sprinter Patrick Nduwimana has continued his dominance after finishing seventh at the NCAA Championships in the 800-meters as a freshman.

Nduwimana began his season by setting an indoor school record in the 800m at the Canon IV Classic in February. A month later, Nduwimana skipped the NCAA Indoor Championships to compete in the IAAF Indoor World Championships in Japan.

At the IAAF Championships, Nduwimana ran against some of the top athletes in the world for his home country of Burundi and fared well, advancing to the second heat with a blazing 1 minute, 46.80 seconds in the 800m.

At the Jim Click Shootout in late March, Nduwimana showed his versatility on the track, running the 1,500m and defeating the reigning NCAA champion, Washington State's Bernard Legat.

Nduwimana's first 800m competition of the season came at the Sun Angel Classic and he didn't disappoint. He ran an NCAA automatic qualifying time of 1:46.48, the fastest time in the nation this season.

Brian Wahlund can be reached at Brian.Wahlund@wildcat.arizona.edu.