Arizona Board of Regents debates new patent policy
By Brett Erickson
Arizona Daily Wildcat
June 9, 1999


Send comments to:
letters@wildcat.arizona.edu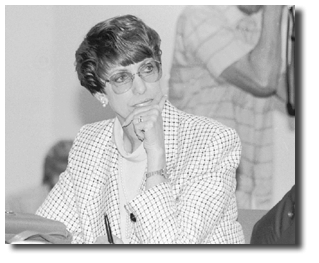 Wildcat File Photo
Arizona Daily Wildcat

"They will be given an opportunity to see the agreement and then have the option to trigger an appeals process." Judy Gignac Regents President


Arizona Summer Wildcat

The Arizona Board of Regents could pass a policy this month stripping UA faculty members of some authority to license new technology.

While the state's university researchers have always had the authority to nullify changes made by their superiors throughout the process of creating and licensing new technology, the regents are getting closer to approving a new intellectual property policy that creates an appeals process designed to settle licensing disputes.

At the May 21 meeting held in Sierra Vista at the University of Arizona South, the regents adopted a compromising language change in the proposed policy.

UA inventors would no longer have complete veto power, but they won't be shut out of licensing negotiations as the regents' proposal initially stated.

"They will be given an opportunity to see the agreement and then have the option to trigger an appeals process," Regents President Judy Gignac said of the new language, which the board will vote on later this month.

The debate began when several Arizona State University cancer researchers opposed the new policy.

But UA Faculty Chairman Jerrold Hogle said that most of the researchers at this university are satisfied enough with the changes to the regents' proposed policy.

"Several of our faculty had some concerns with the policy as it was initially proposed," Hogle said.

"There's more to be done, but this sets a general framework," he added.

In some additional business from last month's meeting, the Board of Regents approved additional funding for two UA renovation projects that have cost about $350,000 more than originally anticipated.

The first project involves renovating the first-floor laboratory in the Psychology Building.

The construction was originally budgeted at $1,487,500 and approved by the regents, but the lowest bid found was $143,000 higher.

"The current bidding climate in southern Arizona has added some costs to getting work done," said Ed Murray, assistant construction director for the UA's Facilities Design and Construction.

Additional funding was also needed to tag on a new emergency generator that is compatible with the project's new equipment, Murray said.

The board also added $205,000 to the budget for University Animal Care facilities improvement.

The National Institute of Health Recently requested $1,529,000 worth of renovations to the facilities, which house animals used in research projects.