Stepping up a notch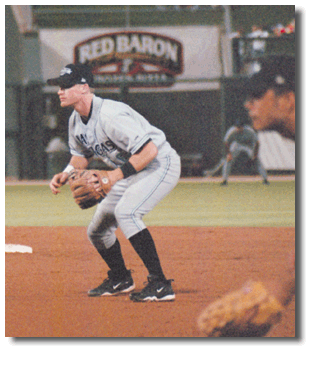 Scott Andrew Taras
Arizona Daily Wildcat

Former UA infielder Jake Thrower gets himself ready for a ground ball Friday night at Tucson Electric Park when his Las Vegas Stars took on the Tucson Sidewinders. Thrower is just one step away from the "big show" with the San Diego Padres, a feat that few thought he would accomplish.


Arizona Summer Wildcat

Former Wildcat infielder Jake Thrower has a last name that's perfect for a professional baseball player. But for Thrower, who played at UA from 1995-'97, getting to the majors seemed like a long shot when he left school after his junior year and signed a free agent contract with the San Diego Padres.

It didn't seem like Thrower would be poised to jump to San Diego anytime soon when he was assigned to Class A Clinton in 1998.

He had the defensive skills, but the question asked was - could Thrower be a hitter?

When injuries hit the Padres' AAA team in Las Vegas this year, Thrower, despite only hitting .242 at AA Mobile, earned a promotion.

He has made the most of his chance.

"Right now I'm having a ball," Thrower said. "I'm getting my at-bats, I'm getting my hits here. It's fun."

He exploded in his first 10 games with the Stars, hitting .450 (18 for 40) and thereby encouraging the Padres to keep him at AAA.

"I've been moving up pretty rapidly," he said. "Some injuries have happened, I was supposed to fill in, but that's how you get your chance.

"I'm hungry. I want to get there (the majors) as soon as possible."

UA head coach Jerry Stitt said he believed Thrower could rise up to play pro ball.

"Jake always had great talent, great instincts for the game," Stitt said. "He was a talent, a switch hitter, a good hitter."

Thrower said the transition to pro ball wasn't as difficult thanks to Stitt and former UA head coach Jerry Kindall.

"The wood bat was a little tough to get used to," Thrower said. "Of course some of the pitchers were tough, but there's some excellent baseball in the Pac-10. The pitching is (Class) AA quality.

"Coach Kindall and Coach Stitt taught good, fundamental baseball. Every day Coach Stitt was out there with you. He was very good on (teaching) the mental aspect of baseball."

Stitt said the hardest thing for players to adjust to is the increase in games, which is as much mental as it is physical.

"The biggest challenge is playing so much," he said. "When they go from college to pro ball it's another step up in terms of playing time. It's the kind of pace that either wears you down or you learn to cope with it."

Stitt said he saw the wear and tear of a long season take its toll on Thrower before this year.

"He was worn down a little bit the first couple of years," Stitt said. "This year, if he sticks in AAA, he can get a call late. It's definitely not a talent thing with him, he's got that, it's just being in the right place at the right time."
jake thrower
Minor League stats

1999              Avg.  AB   R    H   2B  3B  HR  RBI
Las Vegas (AAA)  .354   82  19   29    6   1   2   15
Mobile (AA)      .242  149  15   36    9   2   3   26
Totals           .277  231  34   64   15   3   5   41

UA stats

                  Avg.  AB   R   H   2B   3B  HR  RBI
1995             .337  166  42  56    6    3   1   24
1996             .274  223  44  61   15    2   2   27
1997             .319  229  51  73   13    3   5   51
Totals           .307  618 137 190   34    8   8  102