Freshmen get first peek at university life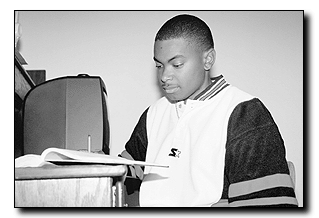 Nicholas Valenzuela
Arizona Summer Wildcat

Incoming biology freshman Courtney Turnbo looks over some of his homework for the college algebra class he is taking during the New Start Program. The six-week program allows incoming freshman to take classes and get aquianted with the UA.


Arizona Summer Wildcat

Courtney Turnbo is not getting a lot of first-hand advice from home on how to succeed at the college level.

And for a good reason.

When the fall semester begins two months from today, Turnbo will be breaking new ground. In August, the soft-spoken 18-year-old will become the first member of his family to attend college.

While some incoming freshmen are enjoying their final summers at home, Turnbo is not waiting around to become adjusted to life as a University of Arizona student.

He is one of 350 high school graduates enrolled in the New Start Summer Program, a six-week crash course that helps incoming freshmen get acquainted with the rigors of college life.

New Start is a bridge program aimed at minority and need-based financial aid students. Rudy McCormick III, the program's interim coordinator, said the primary recruiting goal is to admit students who have been historically underrepresented at the university level.

"We accept a lot of first-generation college students, so they don't have a parent or a sibling that has told them about the university," McCormick said.

The typical day for Turnbo, who will study biology in hopes of becoming a pediatrician, begins bright and early. Starting at 7:30 a.m., Turnbo spends three hours in a college algebra class.

This is where the Mountain Point High School graduate notices the biggest difference between classroom environments.

"My teacher's weren't as fun in high school as my math teacher here," Turnbo said of his instructor, Martha Myers.

In particular, Turnbo enjoys the way Myers is "down to earth" with her students and interacts with the class.

After a half-hour break, Turnbo meets with a peer adviser to learn the secrets of how to master the UA's seemingly massive administrative process. One topic they have already covered is how to register for classes over the phone - a procedure that still baffles many current UA students.

Turnbo will be paying close attention to his student counselors, so he can deliver his new expertise to two younger siblings, who may also go to college.

The peer advisers also teach the students about time management and study skills, giving them a leg up on other incoming freshmen.

"If you look at New Start students and compare them to first semester freshmen, they know where they're going - they know where their classes are," McCormick said.

Turnbo and the rest of the New Start students are turned loose after the one-hour meeting, giving them the rest of the day to explore the campus and enjoy the freedom of being away from home.

Kendal Washington White, the program's director, said they have succeeded in easing the transition from high school to college for the majority of students who have previously participated in the program.

The result is a new generation of New Start students.

"We are starting to see the children of people who went through the program 30 years ago," she said.

One of the major challenges of the program is cramming a semester's worth of class work into six weeks. But the students seem to realize the challenge and come to class with the proper attitude.

"The students in the New Start program tend to be more serious about their studies, more interested in learning, more willing to work, and generally have a happier demeanor than you see in most other classes," mathematics instructor Jason Belnap said in an e-mail interview.

"I have never had a class so energetic, enthusiastic, and eager to learn as my New Start class," he said.

Making the transition smoother for the students is also one of Belnap's main concerns. He said he utilizes group activities to get them acquainted with other students.

The program operates on an annual budget of $200,000. About $178,000 of that amount comes from state funds. The rest of the money is collected from a $75 program fee and a $60 housing fee for students living on campus.

Students have the opportunity to stay the six weeks in Cochise residence hall. Living in a dorm was yet another adjustment for New Start students.

"It was hard at first, but I got used to the roommate thing," said Ellie Kumayama, an 18-year-old graduate of Cactus High School in Glendale.

"It's kind of like a prison - I don't feel like I have any freedom," she said.

Kumayama said she has also had trouble adapting to the lecture environment in her English 101 class.

"Most of it is just lecturing now and the lectures are really boring," she said. "I try not to fall asleep."