Venetian Summer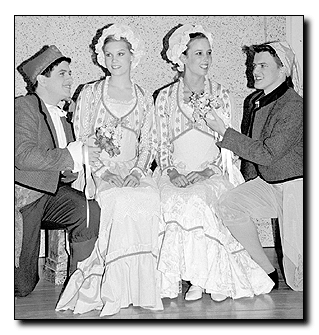 Randy Metcalf
Arizona Summer Wildcat

Vocal performance junior Robert McNamara, music education sophomore Erin Booth, music performance senior Jean Broekhuizen and vocal performance graduate student Blake Pullen perform in "The Gondoliers." The University of Arizona's Fine Arts Summer Opera will present "The Gondoliers" Thursday through Saturday at 8 p.m. in the UA Music Building's Crowder Hall.


Arizona Summer Wildcat

Take a step into Venice, 1750.

Men strut around in nightcaps. Women weave roses into hoops. And everyone sings and dances.

Watching "The Gondoliers" is like opening a book on Venetian history, except it's entertaining too. And you don't even have to go to the bookstore, much less Italy to experience it.

Friends of yours are in Europe right now lugging around backpacks and suffering the octopus-like hands of European hosts while you are in a climate-controlled environment in the Music Building with only a soft velvet cushion touching your behind.

A 31-piece orchestra strikes up a bouncy and tuneful song and a curtain opens. There are women behind it. They sing about flowers and what-not, their tones rising and falling, almost hypnotizing you. You recognize this as an operetta. But unlike most of the opera-like shows you've heard about or seen, this one is being sung in English.

In Charles Roe's third year as the University of Arizona's Fine Arts Summer Opera director, he's chosen a Gilbert & Sullivan favorite. Gilbert & Sullivan are a 19th century writing duo who wrote some of the best operettas in the history of English theater, precursors of today's Broadway musical. Their most famous works are "The Pirates of Penzance," and "H.M.S Pinafore"

"The Gondoliers" - one of their final works - is about two gondola rowers who are discovered to be kings. The story follows their rise to the throne and the repercussions their shared kingship has on class hierarchy in Venice.

The pair make many royal mistakes during their shared rule and we don't find out until the end who is the real king. Along the way, a fair maid is discovered to be married by proxy to whomever is the king and she joins the retinue of uncertainty that trails the plot.

Roe says he chose this operetta because there are "lots of equal parts." "The Gondoliers" is as much a drama about a society wherein everyone has equal status as a light and fluffy comedy about uncertain identity. So there are many opportunities for each of the main characters to show what they are made of in song and dance.

Roe also says that he chose "The Gondoliers" because it is a "delightful happy show, full of tuneful music."

Word for word and note for note it is an almost purely comic operetta, lathering its bouncy story into an amusing musical foam. There are almost as many "tra-la-la"s and music fillers as direct expressions.

Besides being a pleasure for the ears, "The Gondoliers" is a treat for the eyes. The staging includes a sliding gondola and stately court furnishings and there are peach and lavender clothes that fill the stage with a colorful texture you can almost smell.

The unstable plot and fairy-tale ending make for a lot of entertainment. There are serious statements about marriage, "partial fate," and the problems of social equality for the attentive theater-goer, but "The Gondoliers" is mostly a pleasure to the senses, one that transports the heart while your body stays close to home.