Bench Them?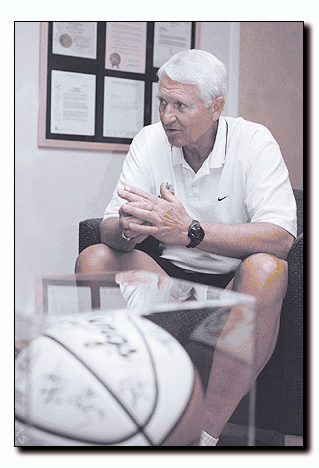 Nicholas Valenzuela
Arizona Summer Wildcat

UA men's basketball head coach Lute Olson discusses the proposal suggesting that freshman be ineligible to play men's basketball, yesterday in his office at McKale Center. The proposal is being presented today by a 27-member NCAA panel.


Arizona Summer Wildcat

An NCAA panel will present a proposal today to require incoming freshmen to sit out a year before beginning their college basketball careers.

The 27-member panel includes school presidents, athletic directors and former North Carolina head coach Dean Smith. The panel believes that men's basketball players will benefit by having a year to adjust to campus life, but are also considering less radical ideas like making the college basketball season start in January or requiring student-athletes to attend summer school.

UA men's basketball head coach Lute Olson has talked to NCAA president and former UA athletic director Cedric Dempsey about the proposal, but feels that there are too many reasons why the bill won't pass.

"Some of the ideas they have are great, but I question whether it is possible for those things to happen," Olson said. "One, if they were to do that, they would have to up the current scholarships from 13 to 18, or at least 16, so teams would have a period to adjust and have enough players in the program."

Olson is totally opposed to having incoming players begin playing after the first semester, saying it would be impossible to build team chemistry by having a new batch of players begin practicing and playing midway through the season.

"If they are not eligible to compete from the start of the season, they are going to be far behind," he said. "I'd rather have them sit out the entire season."

Olson also said it would be difficult financially to be have more scholarships available along with giving the player an extra year under scholarship in order to complete his four years of eligibility.

If passed, the proposal would most likely be initiated into the 2001-2002 season, giving the programs two years to adjust to the new rule.