Learning from the best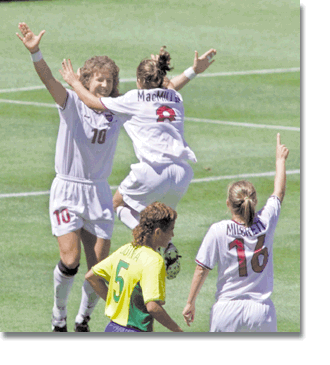 Associated Press
Arizona Summer Wildcat

U.S.A.'s Michelle Akers (10) is congratulated by teammates Shannon McMillan (8) and Tiffeny Milbrett (16) after scoring on a penalty kick during the second half of the Women's World Cup soccer semifinal game on Sunday in Stanford, Calif. The U.S. beat Brazil 2-0 to advance to the finals against China Saturday afternoon.


Arizona Summer Wildcat

Members of the Arizona women's soccer team have spent their summer working out, practicing on their own and spending a considerable amount of time in front of the television.

Now, while most coaches would cringe at the thought of their players spending too much time on the couch, UA head coach Lisa Fraser doesn't seem to mind.

She is just happy her players have a chance to learn from the best as they watch the Women's World Cup unfold, culminating Saturday in the sold-out final between China and the United States at the 85,000-seat Rose Bowl in Pasadena, Calif.

"I think it's been great for the young kids to watch," Fraser said. "You go to Europe or South America and there's soccer on TV everyday, and now they've got that here.

"Getting to watch other athletes play the sport is the way to make you get better."

And with the dominance shown by the Americans, who have outscored their opponents 18-3 through five games, the excitement level is reaching a fever pitch.

"It's just amazing," said UA junior defender Kate Nighswander-Will. "There was a quote from one of the women's players saying it used to be like playing in front of high school crowds and now they're in front of sold-out stadiums."

73,000 people attended the United States team's semifinal 2-0 win over Brazil in Stanford, Calif., Sunday afternoon. In comparison, there were 30,096 people at the Arizona-Stanford football game at the same stadium last fall.

"It's overwhelming how much it means," Fraser said. "We've had so much publicity, it's done a great job entertaining the public, and for women's sports in general it's been good."

Nighswander-Will said the publicity will benefit the younger players.

"There's so much attention placed on just women in sports, it's awesome for young girls," she said.

Both player and coach agreed the extra attention could benefit the Wildcats' attendance next year.

"I would hope so," Nighswander-Will said. "From the younger girls' perspective it's pretty cool to see a fairly high level of soccer being played."

Fraser said she hopes the popularity of the sport will foster the creation of a professional league.

"I think with this World Cup we'll start a good women's semi-pro or pro league," she said. "For college players, just being able to continue playing would be great."

Fraser said the United States will need to start a professional league just to keep up with the way other countries' teams have improved over the past decade.

"It shows, just looking at how good Brazil is, we're going to have to start a league," she said.

Nighswander-Will agreed that a professional league would be encouraging to many current and future collegiate players.

"More and more graduating women's soccer players would be interested in continuing their soccer careers," she said.

Fraser said the increase in the popularity of women's sports is due in large part to economics and atmosphere.

"I think part of that is that women's sports are affordable, families can go to a WNBA game when they can't go to an NBA game," she said. "The environment of the soccer games are very family oriented, you're not paying big bucks.

"Right now you're getting great role models on the women's team, while if you look at the general picture of men's sports, there are some, but not many."

Both Nighswander-Will and Fraser have tickets for the final between the United States and China.

Before the United States beat Germany in the quarterfinals and Brazil in the semifinals, Nighswander-Will said she hoped the home team would reach the final game.

"I wish they'd be there," she said. "I hope they'll be there. We need them to be there."