Under Desert Sky
By Karen Tully
Arizona Summer Wildcat
July 14, 1999


Send comments to:
letters@wildcat.arizona.edu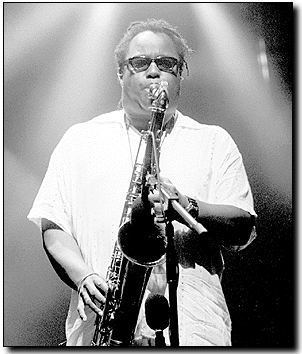 Keren Tully
Arizona Summer Wildcat

Dave Matthews Band saxophonist Leroi Moore plays during their show.


Opening up with "What Would You Say" in front of a sold out crowd, the Dave Matthews Band rocked Phoenix's Blockbuster Desert Sky Pavilion last Tuesday night.

With the monsoon rains pouring on the fans, the opening band, Jimmy Cliff, got the audience fired up and ready to dance to Matthews' songs such as "Two Step," "Don't Drink the Water" and "Too Much." Fans with reserved, covered seats were able to experience more of the music and spirit of the show. However, drunken, sweaty people in the open-seating and the lawn areas detracted from the enjoyment of fellow concert-goers.

Performing many of the songs from their latest CD, "Before These Crowded Streets," Dave Matthews kept on singing and dancing despite the overwhelming Phoenix heat. At one point in the show, Dave blurted out an Arizona trademark -Ê"but it's a dry heat!"

Halfway through the concert, Matthews sang his hit love song "Crush," bringing the audience back to their feet. The band returned for three encores, but the crowd could not get enough.

Matthews finally closed the well-performed three-hour-long concert with a brilliant melody of "Warehouse" and "Ants Marching."