Agriculture college mourns killing of graduate student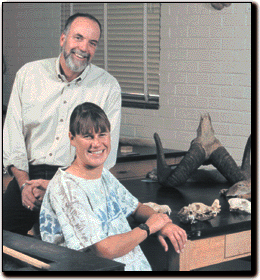 Arizona Summer Wildcat

Photo Courtesy of the Arizona Foundation. Martha Grinder, a UA graduate student with the College of Agriculture, died from injuries she suffered after she was struck in hit-and-run accident last Wednesday. She is pictured here with agriculture professor Paul Krausman.


Arizona Summer Wildcat

UA College of Agriculture members are mourning a graduate student who died Friday from injuries she sustained during a hit-and-run accident in east Tucson last Wednesday.

Martha Grinder, 31, was jogging with her 9-month-old daughter, Rollie Marie, along the southbound lane of North Freeman Road when she was struck by a vehicle.

Grinder's daughter was released from University Medical Center in good condition Monday.

The Pima County Sheriff's Department is investigating the case, but a spokesman said no arrests have been made.

"Everyone around here was shocked and saddened," said Bill Shaw, chairman of the wildlife and fisheries resources program. "She touched a lot of people here."

Grinder was studying urban coyotes around the Tucson area. Her research analyzed the DNA of coyotes to determine their diet.

In addition to her research, Grinder also taught in the College of Agriculture.

"She has been very active with the students as a TA," said Shaw, who worked with Grinder in the department of Renewable Natural Resources.

Grinder received her bachelor's degree from Hope College in Holland, Mich., and completed her master's degree at Iowa State University.

Next week, Grinder was scheduled to defend her dissertation for her doctoral degree, Shaw said.

The university will award her degree posthumously, Shaw said. She had completed all of the requirements.

"It has been a huge loss," Shaw said. "She was a real inspiration as a scholar."

There were no witnesses to the incident, and the sheriff's department is seeking public assistance on the case.

Grinder's family is interested in establishing a memorial scholarship, said John Egan, a representative from the College of Agriculture.

"We've agreed to set something up in her name and focus it on things she was involved in," he said.