UA students, prof say JFK Jr will be missed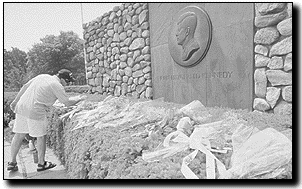 Associated Press
Arizona Summer Wildcat

Richard Berson of South Windsor, Conn., touches the bouquets of flowers left by tourists at the John F. Kennedy Memorial Monday, in Hyannis Port, Mass. The bouquets were placed on the shrubs in front of the memorial in memory of John F. Kennedy, Jr., who, along with his wife and her sister, are presumed dead after the disappearance of their aircraft off Martha's Vineyard Friday night.


Arizona Summer Wildcat

While John F. Kennedy Jr. did not affect the country as a politician, individual Americans will still remember him as a charismatic figure and an national icon, a UA professor said.

"People close to his age see him as a youthful figure - he was incredibly charismatic," said Lyn Ragsdale, a University of Arizona political science professor.

Ragsdale, who specializes in the presidency, said people will remember him and respond to his death differently because of his many images.

While younger people knew him for his handsome looks and demeanor, the older generations will remember him as the president's son - the continuation of an American legacy, she said.

"Everybody watched him grow up - that has its own tragic component," Ragsdale said.

Kennedy Jr., 38, his wife Carolyn Bessette Kennedy, 33, and her sister Lauren Bessette, 34, are presumed dead by U.S. Coast Guard officials. Their plane disappeared on the way to Cape Cod for the wedding of Rory Kennedy, JFK Jr.'s cousin.

Last contact with the single-engine plane, which was piloted by Kennedy, was Friday night, as it descended toward Martha's Vineyard.

The plane made a sudden drop toward the water for unknown reasons just before disappearing from radar, according to investigators.

Ragsdale said while JFK Jr. was not involved in politics, he still carried the appeal of what she calls, "a sort of American celebrity family." The Kennedy name and character generated a lot of media interest, she said.

Nathan Denny, a first-year electrical and computer engineering doctoral student, said the death holds less meaning for people in his generation.

Denny said the media coverage surrounding the death was overblown, adding that the overexposure is the result of "a well-known name."

"I'm sad that his plane went down," he said. "My grief would extend to anybody."

Athena Aktipis, a visiting scholar studying evolutionary economy, said that while each person may be emotionally affected by the death, the country as a whole won't feel much impact.

On a personal level, Ragsdale said she was shocked by the last in the long line of tragedies in the Kennedy family.

"Everybody in Boston always talks about the Kennedy curse," she said.