Campus-area businesses bear down for summer lull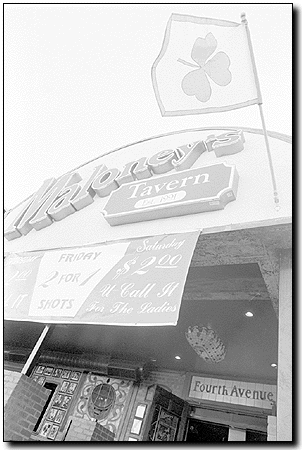 Karen Tully
Arizona Summer Wildcat

The exodus of UA students in the summer causes businesses like Maloneys to target Tucsonans. Other locations like Coffee Plantation on East University Boulevard have cut back business hours for the summer.


Special to the Arizona Summer Wildcat

Every summer, Tucson sees an exodus of UA students, and campus-area businesses must employ survival tactics to off-set the summer sales decreases.

University of Arizona-area businesses cut their hours, employ less staff and focus on local residents to combat the drop in sales.

According to Tucson's Office of Economic Development, 1997 retail sales from May to June dropped $5.4 million.

Overall retail sales in 1998 rose, but May to June sales fell $38 million.

Jacquie Rinder, manager of Coffee Plantation, 845 E. University Blvd., said the shop loses more than half its business during the summer. She said Coffee Plantation uses this time to experiment with new drinks and a new menu to explore their customer's reactions.

Some businesses, including Maloney's on Fourth, 213 N. Fourth Ave., remain competitive by focusing on year-round residents.

"We decided that the students do come and go, and the local population stays," said Maloney's manager Curt Tyler.

Since November 1, Tyler said the staff has kept the bar a little cleaner and more upscale, and has prepared for the summer by offering increased specials and always keeping the bar "nice and cool."

"We have definitely increased our businesses and sales since last year," Tyler said.

Many businesses cut their operating hours and use part-time employees who attend the university.

Robert Castle and Kristie Burke, co-owners of the women's clothing store Divaz, 908 E. University Blvd., said they knew what to expect this year because of their experiences last summer.

Castle said they have trimmed two hours off their work days and have been able to reduce their staff because most of their employees are gone for the summer break.

Burke said she appreciates the changes because they help reduce costs.

They also began to increase advertising, including commercials that run four times a day on local cable television stations. The shop also started a Web site in May.

"Last year we didn't have any advertising going into the summer," Burke said. "Now we're more known."

Castle and Burke said they have begun to target younger, Tucson-area consumers.

"We are trying to get out to the high schools," Castle said.

Richard Berger, president of the Sixth Street Merchants Association and owner of U of A Liquors, 1002 E. Sixth St., said his sales remain about the same year-round.

"We see some chop off but not as much as some of the rest," he said.

Berger said all of the businesses on East Sixth Street are still open for the summer, but their sales have dropped in general.

While some businesses suffer, Tucson residents said they have no problem with the summer changes.

"It's kind of nice without all the rush," said Anna Berridge, a UA student working at Kaibab Huachuca residence hall for the summer.

Monica De Soto, an administrative assistant for the Chicano/Hispano Student Affairs and Resources Center, said she only goes to area restaurants and shops around lunch time when they are sure to be open, but normally brings food from home to avoid any hassles.