Final Days Abroad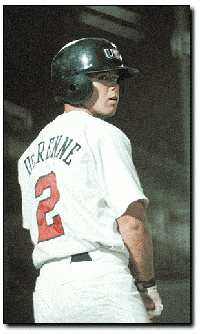 Wildcat File Photo
Arizona Summer Wildcat

Team USA and UA junior shortstop Keoni DeRenne went 1 for 3 in Monday night's 5-2 loss to Nicaragua at Hi Corbett Field. Team USA will face Mexico tonight in Fargo, N.D.


Special to the Arizona Summer Wildcat

June 27

We drove an hour to the field in the afternoon, and surprisingly we didn't realize our hotel was in the mountains the night before. The temperature was about 55 or 60 degrees, it was very nice.

We played our game at 1:30. We played well, but still lost 7-4. We just can't seem to beat these guys.

We went back to the hotel and ate a Japanese dinner. They cooked the food right in front of us in a bowl that had a fire under it. We had to sit on the floor though, which was uncomfortable.

Later we walked along the lake where the water was very cold. Afterwards our team played wiffleball all night outside in the dark. We had lots of fun.

June 28

We drove back to Tokyo in one trip. We stopped three times to eat or take a bathroom break. We left at 10 a.m. from Aomori and arrived in Tokyo at 8:30 p.m. We checked back into the same hotel as when we first arrived.

June 29

It was the same morning routine except the game was at noon.

My friends from Hawaii who were in Japan to play against other Japanese teams came to the game. I was so glad to see them. There were about 15 guys on that team I had grown up with. They cheered for us but left in the sixth inning. We lost our final game of the trip.

After the game we decided to go to Roppongi, another part of Tokyo, and we went to the Hard Rock Cafe. We ate dinner with the Japanese team. They got to drink beer while we had to drink orange juice.

June 30

Today was our final day in Japan. We left the hotel for practice at eight a.m. and didn't return till two in the afternoon. It was a (pain) because it was raining and our practice site was an hour away.

We got back to the hotel and took a train to the Mizuno factory store. It was eight stories high with all the Mizuno stuff for every sport. The gloves were very expensive. I didn't find one I liked, but we took another train to another baseball store and found the glove I wanted. It cost $300.

The other guys stayed in and slept or went to an electronics store that was a block long. I ate sushi that night with friends. My buddies didn't like the sushi, but I sat there and enjoyed mine.

It was a great trip and a terrific experience. I would do it again if I had the opportunity. The people in Japan are kind and very considerate. It was a very cultural place. An example of there culture would be the newspapers, which had naked women in them, unlike America.

July 1

It was travel-back-to-America day. We were all excited and very glad to get back here.