Olympic gold medalist joins UA swimming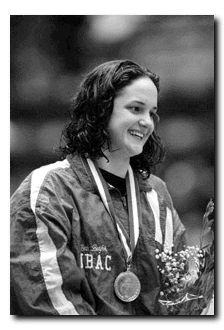 Arizona Summer Wildcat
Photo courtesy USA Swimming Incoming UA freshman Beth Botsford stands on the podium with her medal at the 1996 Summer Olympics in Atlanta. Botsford - only 15 when she won - is one of two gold medalists from the 1996 games, to join the Wildcats swim team this season.
Arriving at a new university can be a trying process.
Add the pressure of training to be one of the world's best swimmers and one can imagine what kind of stress incoming freshman Beth Botsford could be feeling.
But Botsford said this type of pressure doesn't faze her. She's seen and heard it all during her stint with the U.S. national team.
At the 1996 Summer Olympics in Atlanta, Botsford captured the gold medal in two events - the 100-meter backstroke and the 400-meter medley relay squad.
"I had a lot of great times in Atlanta, but my favorite memory was of the crowds," she said. "The crowds were amazing, because almost all of them were shouting 'USA!' It was a great feeling."
Botsford is coming to the UA from Garrison Forest High School in Timonium, Md., where she swam for North Baltimore Aquatics and the U.S. national team.
Currently, she holds the distinction of being the 12th fastest woman ever in the 200-meter backstroke, which she swam in two minutes and 10.66 seconds.
Botsford said she was looking for a change of pace when she decided to attend the UA. Her other choices included dominant swimming programs like Georgia and Southern Methodist.
"I am really excited about a change of atmosphere," she said. "I like (head coach) Frank Busch a lot and I am looking forward to training with him."
Under Busch, Botsford also expects to have a change in her training regiment.
"Right now, Beth has enough as far as distance is concerned," said UA assistant coach Jeanne Gibbons. "We just want to give her more specialized training to work on her speed and technique."
Busch is also looking forward to having Botsford join his team.
"Beth comes to Arizona with an array of excellent credentials," Busch said. "We are thrilled to have her become a member of our team next fall and I am sure she will make a huge impact on this program."
The UA women's swimming team finished fourth at the NCAA Championships in Athens, Ga. last season, winning only one individual title.