Footloose in Tucson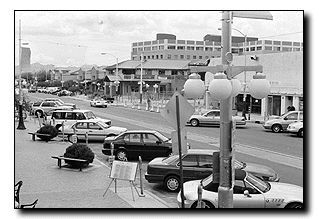 Casey Dexter
Arizona Summer Wildcat
The East University Boulevard and North Park Avenue area has various stores and resaurants for students' enjoyment. Even main stream establishments such as The Gap and the Bath and Body Works have moved into the block within the past three years.
Don't have a car? Is your parking space located in north Phoenix? Have no fear because - for the student willing to walk a little - there's plenty to do around campus.
Just west of campus, at the North Park Avenue and East University Boulevard intersection, one can find dozens of restaurants and shops. Students can browse the boutiques, eat everything from hamburgers to falafel and even get a therapeutic message.
For hungry students wanting to work on their freshman 15, there are several good places to eat. 88 Express, 931 E. University Blvd., serves heaping plates of steaming Chinese food for less than $5. Across the street is its rival, Chen's Cafe, creating a dilemma for those seeking filling Chinese fare. Also tucked away on Park and University - Oriental Express - which features phenomenal egg rolls and unique spicy orange chicken.
A little further west is Andalus restaurant, 923 E. University Blvd., a friendly Middle Eastern restaurant with tasty falafel, shwarma and gooey desserts. While chowing down on inexpensive international fare, diners can watch belly dancing and music videos on Lebanese television.
If greasy American food is more to your liking, Johnny Rockets, at the corner of North Euclid and University avenues, serves up burgers, fries and malts in a 50s-style diner.
For older students, Gentle Ben's at 865 E. University Blvd., has good microbrews made on-site. Their meals are tasty and filling, and they have affordable happy hour specials.
Frog n' Firkin and Geronimoz, both on University, offer pool tables and a wide variety of imported beers.
Two businesses offer haircuts and styling. Cost Cutters, 990 E. University Blvd., and Town and Campus Hair Styling, 915 E. University Blvd. Campus Hair provides the more personal touch of an independent barber, and has discount prices for ROTC cuts.
Fashion-conscious shoppers will enjoy clothing stores like the GAP, 825 E. University Blvd. and Divaz, 906 E. University Blvd. Campus Athletic, 936 E. University Blvd. offers sportswear for those that would rather sweat than strut.
At 1025 N. Park Ave., just south of Speedway, is Posner's Art store. Long a favorite of creative university students, it sells a wide variety of supplies needed for art and design classes.
For those willing to walk about 15 minutes, Fourth Avenue, located west of the university, is a kaleidoscopic array of shops, bars, clubs and restaurants. Hippies and backpack-toting wanderers come here to meet and sell handmade crafts. The various shops sell everything from beads and vintage clothing to incense and imported jewelry. Three smoke shops sell all sorts of paraphernalia - for tobacco use only, of course.
Two more casual eateries are Brooklyn Pizza Company at 534 N. Fourth Ave., and Bison Witches Bar and Deli at 326 N. Fourth Ave. Brooklyn has good food at cheap prices. Try their garlic knots. Bison Witches has huge sandwiches that will fill you up until next week, served in a crowded, friendly atmosphere.
On the first and third Saturdays of every month, Fourth Avenue comes alive for Downtown Saturday Night. Most businesses stay open late, as crowds of Tucsonans wander and enjoy Tucson's mild evenings.
Many bars and clubs have live music. After enjoying a stroll along the avenue, most people head south to Congress Street to watch jugglers, singers and dancers who perform on the sidewalks. Others choose to browse among dozens of street vendors.
A warning to freshmen - Fourth Avenue and downtown are not always safe after dark, but during Downtown Saturday Nights, the large crowds and solid police presence keep the streets secure.