Men's hoops aims for Indianapolis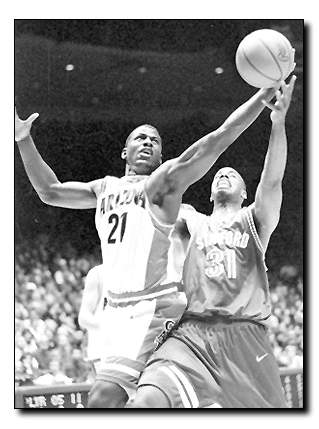 Wildcat File Photo
Arizona Summer Wildcat
Arizona Summer Wildcat File Photo UA sophomore forward Michael Wright reaches for a loose ball during a game against Stanford last season. Wright, who played with the USA Junior National Team this summer, was the Pacific 10 Conference Freshman of the Year in 1998-99.
Three seasons ago, the 1997 Arizona men's basketball team won the NCAA Tournament at the RCA Dome in Indianapolis.
Now, as the 1999-2000 season opens for the Wildcats at McKale Center in the Preseason NIT against Kansas State, this year's team hopes to raise the trophy and cut down the nets at the 2000 Final Four in the same arena.
While Jason Terry and A.J. Bramlett - the heart and soul of last year's team - have departed for the NBA, the returning crop of players and newcomers are well-equipped to handle the rigors of the Division I basketball.
With Pacific 10 Conference Freshman of the Year forward Michael Wright returning, and the additions of freshman point guard Jason Gardner and junior transfer Loren Woods at center, head coach Lute Olson's transition from last year to this year should be smoother than in previous years.
Wright is currently playing for the U.S. Junior National team in Spain where he scored a team-high 28 points against Greece. Woods is playing his summer ball with the NIT All-Star Team in Europe.
Gardner is a highly touted McDonald's All-American out of North Central High School in Indianapolis. Woods has a year of practice in Olson's system under his belt after transferring from Wake Forest following the 1997-98 season.
Sophomore forward Richard Jefferson and junior transfer guard Lamont Frazier are likely to join Wright, Gardner and Woods in the starting lineup.
Coming off the bench for the Wildcats will be sophomores Ruben Douglas, Ricky Anderson and Luke Walton along with freshman Gilbert Arenas and seniors Justin Wessel, John Ash and Josh Pastner.
Senior redshirt Eugene Edgerson is absent from the lineup, as he decided to take a year off of basketball to concentrate on his future as a school teacher.
Besides the usual conference foes in UCLA, Arizona State and Stanford, the UA also boasts two 1999 Final Four teams on their schedule - Michigan State, at home, and national champion Connecticut, in the Great Eight tournament in Chicago.
Also on the slate for the Wildcats: a home game against New Mexico, a road game at Texas and a run in the Preseason NIT, which could feature games against Ohio State, Kentucky and/or Maryland.