Proposed House budget cuts might impact UA research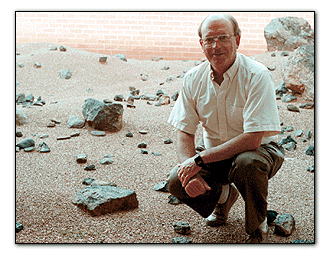 Casey Dexter
Arizona Summer Wildcat

Planetary Sciences Department Head Mike Drake squats in the Mars Garden at the Kuiper Space Sciences building. NASA budget cuts may disturb space science projects at UA.


Arizona Summer Wildcat

A U.S. House subcommittee proposal to cut NASA funding during the next fiscal year could have drastic impacts on UA research, officials said Monday.

"It is actually a very scary proposal," said Michael Drake, head of the department of planetary sciences.

The department has handled National Aeronautics and Space Administration projects like the Mars Pathfinder mission.

Drake said the UA is the world leader in solar system exploration, and the cuts would affect the university in "a very large and negative way."

"It would affect not just scientific enterprises, but also the economic health of the community," he said.

The University of Arizona receives more than $50 million each year in NASA research grants, said UA astronomer Marcia Rieke.

"We get more NASA funding than any other university," Rieke said. "Nobody else is even close."

The House Appropriations subcommittee for Veterans Affairs, Housing and Urban Development and Independent Agencies approved the budget plan Friday.

The plan allots NASA $12.7 billion next year, $900 million below President Clinton's request and $1 billion less than the previous year.

In addition, funding for the National Science Foundation will be $25 million less than the previous year and $275 million below the president's request.

Also included in the proposal is a $700 million increase to Veterans Medical Care, and $1.7 billion increase to Veterans Medical Health Care, the largest increase since the 1980s.

The Department of Housing and Urban Development's budget is seeing an increase also, up $2 billion from last year.

Subcommittee chairmen C. W. Bill Young, R-Fla, and James Walsh, R-N.Y., were not available for comment yesterday.

The bill is scheduled to go before the full House of Representatives next week.

Drake said Rep. Jim Kolbe, R-Ariz., has been "extremely helpful in recognizing the proposed cuts which would be devastating to the university."

Adam Brake, Kolbe's assistant in Washington, D.C., said the proposal didn't make any sense from a policy standpoint.

"Basic core research is something Kolbe recognizes as high priority," he said.

Vince Sollitto, press secretary for Sen. John Kyl, R-Ariz., said Kyl has always been supportive of NASA's mission and he is equally supportive of research projects at the UA.

Margaret McGonagill, UA assistant vice president for federal relations, said the university is unique because it is very involved in nearly every aspect of NASA science.

"When you look at what we get in NASA programs, the proposed cuts are really significant," she said.

McGonagill said even though it is just a House proposal at this point, it has "a lot of weight behind it."

The next generation space telescope is one UA project that could be affected by the proposed cuts.

"A lot of exciting stuff is going on in these areas," McGonagill said.

Also, the NASA Discovery program which funded the UA's Mars Pathfinder was initially cut altogether but restored on Friday with reductions to future planning.

"Within 24 hours of the House action, people started writing letters immediately," McGonagill said. "We have to be vigilant."

"Nobody expected these kinds of cuts. The politics of it right now are difficult. To take money from one place leaves the next place short," she said.

Research and Analysis, which provides the UA with more money than any other institution in the country, could give the university the biggest human impact, Drake said.

The program is used primarily to employ graduate students and undergraduates as researchers and assistants.

Drake said the program is a crucial part of the education process and the proposed $400 million cut may result in "significant layoffs" in people at the university.

Rieke said the most significant impacts of the proposed budget are in the areas getting research grants for newer technology.

Since 1984, Rieke has been working on the Space Infrared Telescope Facility, which was cut entirely in the initial proposal but restored on Friday.

"We would have been devastated," she said. "It would be unbelievable."

Dave Wood, a planetary sciences graduate student said, with so many projects "on the chopping block," the university could suffer.

"My research is not dependent on federal funding," he said. "But in a sense, even if you're not part of a NASA grant, you could potentially lose a lot."

Adina Alpert, planetary sciences graduate student said if it weren't for NSF funding, she couldn't have gained research experience as an undergraduate.

Alpert, whose research this fall is part of a NSF grant, said students rely on this type of research to further their education and it would be "terrible to take it away."