Closing time in Detroit Rock City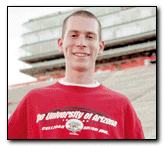 Wildcat File Photo
Arizona Summer Wildcat

Bryan Rosenbaum


On Monday night, I went downtown to see my last baseball game at Tiger Stadium. I have been there well over a hundred times in my short lifetime, but most of those were before the strike (and the Tigers) went down.

Maybe I never really noticed that it's old and smelly. Sure, there were obstructed views, but at a Tiger game you can always move to another seat because there are plenty of them all around you. They said the locker rooms were too small and center field - the longest in the majors at 440 feet - was too deep.

I guess I'll get excited about the new Comerica Park opening next season.

Who knows? Maybe it will turn the Tigers around into a contender... or not.

But what's the fun of going to a baseball game when everything is all nice and perfect?

Bank One Ballpark in Phoenix is a great place to watch a ballgame, but I would much rather watch a Tiger game at the corner of Michigan and Trumbell. There is so much history and atmosphere in the place, you wonder what they're going to do with it after this season. Or rather, why?

We all know why, but as I walked out of Tiger Stadium the other night after the Tigers 6-2 loss to the White Sox, I had to smile. How many days and nights of my life were spent down here watching a game with friends or family, watching the Tigers and enjoying the amenities that aren't available at just any ballpark?

This is the final season for Tiger Stadium, and now for Barry Sanders as well.

His retirement has given Detroiters something other than the Red Wings and the opening of the first of three casinos (it's going to be like Vegas, baby) to talk about.

As the 13-story mural of Sanders looms over the city, I have mixed reactions. First of all, if anybody deserves a rest, it's Barry. But second, did he have to go out like that? Why did he have to quit like that?

Now, whenever I think of Barry, I still remember his incredible runs and how good of a person he is, but I also remember him abandoning the Lions a day before training camp opens.

What do the Lions do now? I don't think anybody knows, including the owners. One thing is for sure - Lions games just won't be the same.

And that goes for the Tiger games, too.