MTV seeking UA lives for real-life shows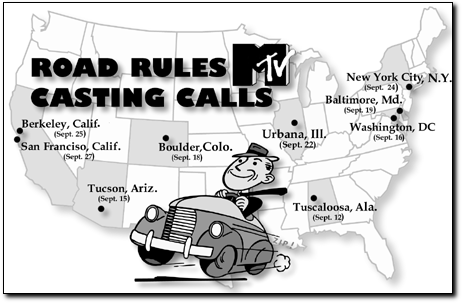 Wildcat File Photo
Arizona Daily Wildcat


UA students looking to expose their private lives on "Road Rules" or "The Real World" should collect their emotional baggage for today's MTV casting call.

Gentle Ben's Brewing Co., 865 E. University Ave., will host the auditions from 10 a.m. to 5 p.m., and MTV urges students to turn out early.

Tucson is the second of 10 cities MTV will hit on its national search for 13 cast members.

"We expect a huge turnout," said Jason Siegel, the event's promotional manager.

Aspiring thespians are required to be 18- to 24-years-old, to have completed at least one college semester and have maintained a 2.75 grade point average. Students also need to bring a photo of themselves to the audition.

MTV chose the UA as a casting site because it has "a party atmosphere with kickass academics - those students who just like to party won't cut it," Siegel said.

Siegel, a UA communication graduate student, said the director aims to choose a cast with good chemistry that will make the show interesting.

About 14,000 applicants usually flock to the national casting calls, an MTV spokesman said yesterday.

Those who are hand-picked by casting associates for the next round will complete a video-taped interview, which is used to make a final decision.

Students lucky enough to be picked for the "Road Rules 8'" cast can look forward to spending a semester at sea with 600 University of Pennsylvania students, which runs the semester-at-sea program.

The six-week semester-at-sea program, which runs from February to May, includes a stop in Cuba. Other stops are tentatively scheduled for ports in Brazil, India, China, Japan and South Africa.

Students not selected for the six-member cast of "Road Rules 8" may still be one of seven chosen for "The Real World: Honolulu," MTV's spokesman said.

Those selected for "The Real World" will operate a coffee house and performance space on the island of Oahu in Hawaii.

Media arts freshman Chris Cohn said he was excited MTV is coming to campus.

"If MTV is there, it's got to be cool," Cohn said. "It would be a cool show to be on."

Biochemistry senior Michelle Boomhower said she does not plan to go the casting.

"I think it would be fun, but I just can't take the time out of school," she said.

Communication senior Jessica Wright, one of three students passing out fliers for the event, said she was excited too.

"They (MTV's casting crew) are going to a lot of big cities, so it's cool that they chose Tucson," she said. "They also chose us over ASU."

Interested students unable to attend the audition can call MTV's casting hotline at (818) 754-5790.

Michael Lafleur can be reached via e-mail at Michael.Lafleur@wildcat.arizona.edu.