Men in Tights (and Janeane Garofalo)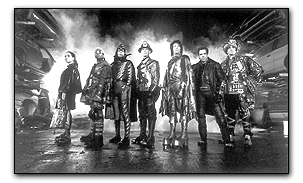 Arizona Summer Wildcat

Photo Courtesy of Universal Pictures
Janeane Garofalo, Kel Mitchell, Wes Studi, William H. Macy, Paul Reubens, Ben Stiller and Hank Azaria are the "Mystery Men."


Arizona Summer Wildcat

First there was the Kool-Aid man. Then came Randy Savage - the caped crusader in the Slim Jim beef jerky commercials. Now, the newest motley batch of avengers to burst through walls and stumble over small bystanders has hit the silver screen.

"Mystery Men," Universal Pictures' action hero spoof, unites the comedic efforts of Hank Azaria as "The Blue Raja," William H. Macy as "The Shoveler" and Ben Stiller as "The Furious" in an all-out battle against the relentless evil-doers of Champion City - which bears a close semblance to Tim Burton's Gotham City in "Batman."

After the capture of the over-publicized resident super hero, Captain Amazing (UA alum Greg Kinnear), the Blue Raja, the Shoveler and Furious set out on a mission to save the city from the wrath of Casanova Frankenstein (Geoffrey Rush) and his disco henchmen, Tony C (Fugees member Pras) and Tony P (stand-up comic Eddie Izzard).

Resorting to everything short of running a classified ad for help from local super-human crime fighters, the three aspiring heroes sign on three new recruits and hook up with a mysterious mentor.

It was not until this arrival of an attention-craving teenager dubbing himself "Invisible Boy" (Kel Mitchell), a flagellant pimply faced version of Pee Wee Herman named "Spleen" (Paul Reubens) and the hard-assed "Bowler" (Janeane Garofalo), the vengeful daughter of a dead super hero, that the movie got funny.

It was an hour into the film.

After sitting through 60 minutes of wretched close-ups of large, unattractive hairy women and an enraged Stiller reaching for bad jokes, the bowling-ball-wielding Garofalo was the saving grace of "Mystery Men" - despite her late introduction. Even Reubens, as obnoxiously grotesque as his character is, was ironically refreshing.

The movie has a killer line-up of veteran comedians. Ben Stiller will not soon be forgotten for his hilarious performance in "There's Something About Mary," Hank Azaria is well-known as a regular on "The Simpsons" and had a recurring role on NBC's "Mad About You," and no one will soon forget Reubens' zany movie theater antics.

You can rarely go wrong with a Janeane Garofalo flick (unless you were one of the 12 people to see "Sweethearts," her comic take on a suicidal maniac). Even Greg Kinnear was funny in his "Talk Soup" days.

But that was then, and "Mystery Men" is now - where audiences have to wade through scene after scene of crud to get to the good part. No one likes wading through crud.

Devoted fans of any of "Mystery Men" comedians will enjoy the "cheap" matinee shows - spending $7 is probably out of the question.

The Bowler put it best: "It's delightfully eccentric, and simultaneously it is a complete waste of time." For the most part, it's a good movie to watch on those rainy Sunday afternoons if it pops up on Fox or HBO.