American Indian freshman got a head start with New Start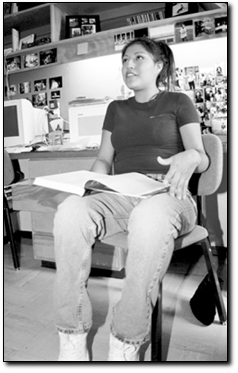 Aaron Wickenden
Arizona Daily Wildcat

American Indian freshman Juliane Martin sits in front of the desk in her room at Coronado Residence Hall. Martin said she is making a smooth transition to college life after visiting the University of Arizona several times and participating in the university's New Start Summer Program.


Look at Juliane Martin as a UA statistic and you'll see someone with a 45 percent chance of not returning to the university for her sophomore year.

But that number disappears in the gleam of Martin's enthusiasm. The energetic, rambunctious American Indian freshman said she is making a smooth transition to college life after visiting the University of Arizona several times and participating in the university's New Start Summer Program.

For many of the UA's more than 700 American Indian students, who have the lowest retention and graduation rates of any UA minority group, the freshman year isn't so easy, which is why administrators are looking for ways to ensure their academic and social successes.

"For kids on the reservation, college sometimes is their very first experience leaving home," Martin said.

Martin, however, had no trouble acclimating to life away from home, having attended a private high school in Albuquerque, N.M., for the last three years - different geographically and culturally from her home on Arizona's Navajo Indian Reservation.

An undeclared freshman, she said leaving an Indian reservation and landing amid 35,000 strangers can be an intimidating experience for many American Indians.

UA statistics show that, of freshman who started their undergraduate education from 1984 to 1991, only 31 percent of American Indians graduated or were still enrolled after six years, compared with 56 percent of white students from the same period. Other minority groups also fall below the 56 percent mark, with the exception of Asian Americans, at 61 percent.

"A lot of it has to do with their adjustment going away from home," said Barbara E. Elgutaa, a senior academic intervention specialist in the UA's Native American Resource Center. "They're away from home, they're away from their communities and families, and they need to have that kind of support when they get here."

The Native American Resource Center, one of three minority resource centers at the UA, serves as a hub for students who use it as a computer lab, tutoring office and social connection. The center staff reaches out to each year's group of new American Indian students, hoping to identify individual needs that hamper success, Elgutaa said.

Orientation programs like UA's New Start also can make the transition to college easier, Martin said.

New Start offers incoming freshmen who are ethnic minorities or receive need-based financial aid a six-week summer program before their freshman year. Participants take a three-unit course, attend orientation sessions about UA resources and academic assistance, live in a residence hall and begin building a social network - all for $60.

"What you get is kind of a well-rounded college experience during the summer," said Rudy B. McCormick, interim coordinator of the New Start Summer Program. "Of course, it's not the actual college experience, because they're only taking one course. In the fall, they'll be taking five, but they'll realize the kind of performance they'll need to succeed."

The 29-year-old program tries to bring in about 350 students each summer, and had a class of 308 last summer, McCormick said. Of those, 18 were white students who qualified because they received need-based aid.

"It's really good to experience what college is like," Martin said. "Personally, I think it's too fast for people coming straight off the reservation. They don't know what to expect. They want to succeed, but it takes time."

McCormick said the academic component is the most important part of the program, but it also provides social activities that let freshmen meet new people right from the start.

"The hope is that they keep in contact with each other to form support groups," he said.

Nationwide studies have shown that orientation programs like New Start increase the number of students who return to the same college year after year to complete their degrees.

A UA report on student retention released earlier this month suggests that expanding programs like New Start to include all incoming students, or expanding them to include more minority students, could improve retention overall.

The report, "Student Retention: 'Toward a Culture of Responsibility,'" is the precursor for a planned conference on UA retention sometime next year, said Michael Gottfredson, vice president for undergraduate education, whose office compiled the paper.

McCormick said it would be beneficial to open the program to everyone.

"I truly believe in the effect that the program has, so my guess would be that that same effect would be had if we offered the program to everyone," he said.

The UA did offer a program similar to New Start to all students from 1987 to 1991, called Summer Bridge. That program merged with New Start in 1992, but in 1993, budget restraints once again restricted the program to minorities and need-based financial aid recipients. The UA spends about $260,000 per year on the program, according to New Start's Web site.

Martin said the program was an advantage because she got to know a lot of people before starting school. She also knew her way around campus by the end of the six-week program.

"Other people were lost the first day (of classes)," Martin said. "Without it, I don't know what I would do. It gave me an introduction to college."

Martin said she supports opening programs like New Start to all incoming students, as long as interaction between students from different backgrounds remains an integral part of the experience.

"Groups start hanging out with groups," Martin said. "After that, they stick to cliques," which is not a good way to meet new people, she said.

New Start introduces students to freshman-year programs like MERIT - Maximum Education Results in Two Semesters - that can help them academically throughout their first year, McCormick said.

Martin said New Start helped her register for classes and narrow her choice of majors. She's taking a 13-unit schedule this semester: Retailing 114, Introduction to Architecture, Spanish 102 and English 101.

"I'm keeping all the options open," said Martin, who is considering majoring in photography or media arts and would like to work in the fashion industry. "I'm not sure what to do yet."

The key to retention and student success is continuing advising and student support beyond programs for incoming students, Elgutaa said.

"The support that a Native American student will receive when attending an institution is a campus-wide responsibility," she said. "Without the support of other campus resources, we wouldn't be doing as well as we're doing."

But in the end, a newcomer's experience is of their own making, Martin said.

"If you take advantage of what's out there, it will help you in one way or another," she said.

Martin said many American Indians who leave their social structure on the reservation seem quiet and isolated on campus. But she belies the norm, she said.

"I hear, 'Julie, you're crazy, you're crazy!'" she said after recounting tales of her nights out at the 18-and-over clubs Gotham and The Outback. "No, I just want to meet a lot of people."

Joseph Altman Jr. can be reached via e-mail at Joseph.Altman.Jr@wildcat.arizona.edu.