Yusuf Scott, a giant Wildcat leader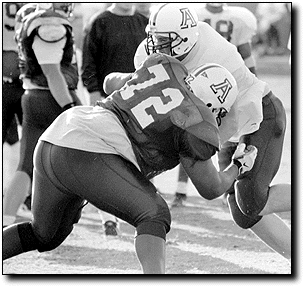 Aaron Wickenden
Arizona Daily Wildcat

Junior offensive guard Yusuf Scott (72) knocks heads with senior defensive tackle Daniel Greer (48) in yesterday's practice. Scott is the most experienced Wildcat returning on the offensive line and will line up against the Iowa Hawkeyes Saturday at 7 p.m.


Yusuf Scott is a very big man.

He even has the nickname of "Big U."

He knows it, the Arizona defense knows it and Jared DeVries of the Iowa Hawkeyes is going to find out this Saturday night at Arizona Stadium at 7.

DeVries, an all-American defensive lineman for Iowa, will have the duty of lining up on the other side of Scott.

"I'm on him all day man, all day," Scott said. "One of us is going to get hurt, and I don't plan on it being me."

Those are fighting words from the junior offensive guard from LaPorte, Tex., who does understand that DeVries' following as a highly-touted defensive player is for a good reason.

"He is a very athletic, big and strong man with great talent. He is one of the NFL's top prospects, so I am looking forward to doing battle with him," Scott said.

Scott is the most experienced Wildcat returning on the offensive line, which makes him the leader of the big guys.

"You have to take a leadership role to make sure the younger guys know what they're doing," he said.

Scott's role as a leader on offense has been well noticed by the defensive linemen, especially freshman redshirt Eli Wnek, who got the first start of his career against Stanford last weekend.

"Yusuf is always very vocal and a great leader," Wnek said. "He really leads that offensive line and you can sense it on the defense."

Scott started all 12 games for Arizona in 1997 as well as two games in 1996 before giving way to UA graduate Ryan Turley.

The offensive line has always been known as a blue-collar position, not the glamour positions that the wide receivers, running backs and quarterbacks play and no one knows this better than Scott.

"I'm a realist, I know what sells tickets. Guys like Chris McAlister, Dennis Northcutt and Jeremy McDaniel," Scott said. "I don't want to be in the glamour, but I will tell you that when Trung Canidate scores a touchdown, I'm right there in the camera to say hello to my mother."

He might be 6-2 and 320 pounds, but the experienced leader and captain on the field is a big comedian off the field.

It is on the field play that everyone notices and gives him the recognition he deserves from the guys he plays against everyday.

"I think we have a great offensive line, Yusuf especially," Wnek said. "When you go against great people you can always get better yourself. You are also always prepared in the game."

Scott, whose experience is counted on this season with a line that has three new starters, feels very comfortable with the other four guys that surround him in protecting quarterbacks Ortege Jenkins and Keith Smith.

"As an offensive line we had a lot of people being skeptical about us before the season, but I think we have showed that we are coming together after the first two games," he said.

Dan Rosen can be reached via e-mail at Dan.Rosen@wildcat.arizona.edu.