ASUA Senate approves $20,000 for Johnnie Cochran visit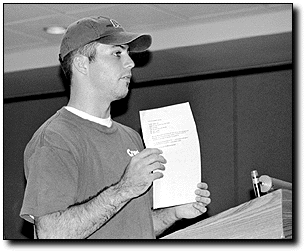 Brian Foster
Arizona Daily Wildcat

Political Science senior Justin Klump addresses ASUA last night in the Memorial Student Union's Rincon room. Klump, who is the Speakers Board Director, proposed that Johnnie Cochran come speak at the UA for about $20,000.


The ASUA Senate last night approved spending about $20,000 to bring former O.J. Simpson defense attorney Johnnie Cochran to the University of Arizona to give a speech.

Justin Klump, Associated Students' Speaker's Board director, presented the senators with a cost breakdown for the visit, including $17,500 for the speech, $2,000 for a first-class airline ticket and $750 to pay for advertising.

Cochran, well known for the phrase, "If it doesn't fit, you must acquit," will also have the option of staying in the University Park Marriott hotel with ASUA footing the $139 bill.

Tucson resident D. Roger Etcetera spoke to the Senate before the discussion session, suggesting what he said was a cheaper and more popular alternative to Cochran.

"I bet you'd get a lot more people to watch dancing girls and hypnotists," he said.

At one point during the meeting, Etcetera, who said that he would speak for $5,000, was chastised by ASUA Executive Vice President Cisco Aguilar for talking without asking Aguilar's permission.

Klump said Cochran's visit would be a fantastic opportunity for the university, especially because Cochran said he would broadcast his television program live from the UA.

"He's somebody who I think would bring a lot of publicity to our campus and would be an excellent speaker," Klump said.

But Klump was grilled by Sen. Dave Snyder about Cochran's reputation and the cost of the visit.

"We have to question if Johnnie Cochran is the image that we want to portray for the UA," Snyder said. "To me, $17,500 is a lot for a speaker... you could fund eight programs and services with that."

And Sen. Ben Graff said after the meeting that ASUA may have acted without full knowledge of student opinions.

"The student body has complained that we do things without asking them and we don't have proof that the student body wants this yet," Graff said.

The Senate, however, voted 6-3-1 in favor of approving the budget for Cochran's visit, with Sen. Janet Rico abstaining and Sens. Marisa Hall, Graff and Snyder opposing.

Students on the UA Mall yesterday had mixed reactions to Cochran's proposed visit.

Megan Schrenk, a molecular and cellular biology freshman, said she thought Cochran's visit is a good idea.

"I think it opens our minds up to his opinions," Schrenk said. "I'm sure we'll have a few hotheads about it, but it's good to be emotional about things like that."

Scott Blough, a history and political science junior, said the UA benefits when big names like Cochran come to campus.

"A few years ago, there would have been a lot more angry people because he got O.J. off," Blough said.

In other business:

Senators voted unanimously to make former Sen. Summer Katzenbach's Bear Down Camp an official ASUA program.

"What I ask you tonight is to be creative and keep an open mind," she said.

Katzenbach and her associates at ASUA invented the freshman camp, which started this summer. Forty-five freshmen participated in different activities at the Oracle, Ariz., camp site.

Graff said he was "disappointed" that one organization missed yesterday's ASUA involvement meeting, held at 5 p.m. in Student Union Room 256.

The Senate voted last week to make a student-run television program called Cat's Eye an official ASUA program, but no representatives from the group came to Graff's meeting.

"I am very, very upset that Cat's Eye had no part in the involvement meeting," Graff said. "I am very disappointed."

No senators responded to Graff and no Cat's Eye representatives appeared at the Senate meeting.

David J. Cieslak can be reached via e-mail at David.J.Cieslak@wildcat.arizona.edu.