(re) Loaded Weapons
By Matt Heistand
Arizona Daily Wildcat
September 17, 1998


Send comments to:
wcarts@u.arizona.edu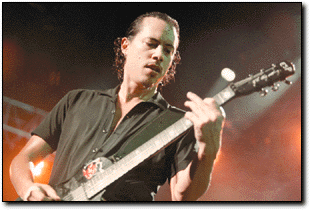 Matt Heistand
Arizona Daily Wildcat

Lead guitarist Kirk Hammet (above) plays a solo during the opening song, "Master of Puppets."


On Sept. 11, 1998, Metallica, among the best metal bands in the business, took the stage at Blockbuster Desert Sky Pavilion in Phoenix. At 9:30 p.m. the band began their relentless musical assault on the thousands of fans in attendance. The fans greeted Metallica by rushing the stage and lighting countless fires on the lawn. Lead by front man, James Hetfield, the band broke in to "Master of Puppets" an old favorite with a metal edge that many fans thought was lacking in their latest albums (Load and Reload). For the remainder of their two-hour set the band played a mixture of both their new and old songs, including "Enter Sandman," "The Memory Remains," and an acoustic version of "The Four Horseman." Metallica ended their final encore with "Creeping Death" and afterward returned to the stage to thank their fans and give away picks and drum sticks.

Despite recent criticism received for their much publicized haircuts and the change in their sound, Metallica still puts on one of the most intense and entertaining lives shows around. I think that they put on one hell of a show, and I'm sure that most in the sold-out crowd would agree with me.
See the full photo spread