Recruiters to visit UA campus for Career Week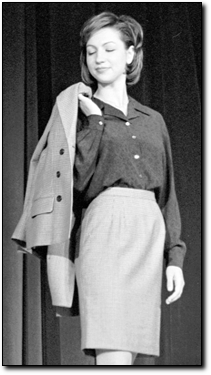 Brian Foster
Arizona Daily Wildcat

Retailing senior Karen Jones models appropriate interview attire yesterday afternoon in the Memorial Student Union during the Students In Free Enterprise fashion show. The fashion show gave students ideas on how to dress for upcoming Career Week.


More than 200 organizations will flock to the UA campus Sept. 22-24 to recruit students for jobs during Career Week.

Susan Miller, marketing and special events coordinator for Career Services, said many companies are interested in recruiting at the University of Arizona because of the "caliber of the student."

Detective Catherine Rhodes of the Mesa Police Department said her colleagues will look for qualified applicants at the UA next week.

"We think our state universities have great quality students," Rhodes said.

A free recruitment forum will take place in the Memorial Student Union Arizona Ballroom all three days from 9 a.m. to 3 p.m.

Miller said employers place a lot of emphasis on work experience - even more than college grade point averages. It is important to start accumulating experience early, she said.

"Your ultimate goal when you finish college is to get a job," she said. "It is never to early to start making contacts and networking."

Other companies visiting the UA include America Online, Guess Inc., Motorola Inc. and Sprint.

Students should bring their resumes and dress professionally for the event, Miller said.

To help students prepare, Career Services will hold a reception Friday from noon to 2 p.m. in the lower level of Old Main. Students may ask questions, check resumes and learn how to search for jobs on the Internet.

Students In Free Enterprise, a campus organization, held a fashion show yesterday in the Arizona Ballroom to show UA students how to dress professionally.

"We hope students gain comfort within their wardrobe on a business level," said Gary Siegel, the club's marketing and public relations director.

Sponsored by Talbots and Men's Wearhouse, the show featured 10 models who walked the runway wearing professional attire.

Siegel, a retail and consumer studies senior, advised men to wear a shirt and tie and women to wear pants, a dress or a skirt to job interviews.

Students should try to "diversify their wardrobe" so they can have a combination of outfits to wear to interviews, he said.

Miller said Career Services provides opportunities for students to discover the right major for themselves and get a job.

The center's Discover Program evaluates a person's job preferences and priorities through a series of questions, then directs the student toward a compatible major.

In the Service Learning program, students receive career-related experience through community service.

Undeclared freshman Trent Rhodes said he will attend Career Week and is not stressed about finding a major.

"I want to check out different careers," Rhodes said. "Maybe it will help me decide what I want to be."

Although she is not looking for a job, Keli Stockton, a management information systems junior, said she will attend Career Week.

"I'm looking to find out possibilities - what I should focus on to get a job," Stockton said.

Before Career Week begins, students should visit the Career Services Web site, http://w3.arizona.edu/~career, to find out which companies are coming each day, Miller said. Students should bring their CatCard to Career Week to expedite the registration process, she said.

Rachael Myer can be reached via e-mail at Rachael.Myer@wildcat.arizona.edu.