Volleyball team sports new faces for fall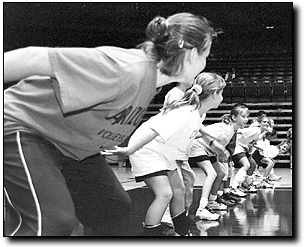 Wildcat File Photo
Arizona Summer Wildcat

Aaron Wickenden/Arizona Daily Wildcat Freshman setter Dana Burkholder (front) helps teach local children some volleyball fundamentals at McKale Center Sunday. The drill was a part of a volleyball clinic where players demonstrated various techniques to hone volleyball skills.


After losing five seniors and a transfer, the 1998 UA women's volleyball team reloaded with one of its largest recruiting classes ever.

Six freshmen join the team this season as it prepares for its season opener on the road against San Diego State Sept. 1.

Head coach Dave Rubio said he hopes to do well, but realizes it will be tough to improve on last season, when Arizona was ranked No. 9 but fell to Oral Roberts in the first round of the NCAA Tournament.

"We had a great year, but a terrible finish," Rubio said. "It wasn't the kind of finish any of us expected, but that's part of athletics."

Senior middle blocker Keisha Johnson and junior left side hitter Raelene Morton bring plenty of experience to the otherwise youthful squad. Freshman setter Dana Burkholder, who this summer captained the U.S. Youth National Team, will also be called upon early to get positive results.

"It's different here because it's much more technical," Burkholder said. "The focus is different because you're focusing on an entire season instead of just three weeks."

If settling into a new college environment wasn't hard enough, Burkholder figures to be the starting setter against the Aztecs.

"I think we'll do very well," she said. "We have a lot of young people who are working hard and learning fast. There's more hands-on coaching, giving us a strong base."

Rubio said that for the team to succeed it will take a strong effort from players like Burkholder.

"In order for us to be successful, we need to ask a lot of younger players to carry the bulk of the load," he said. "Their role in the team changes dramatically, and the first match of the year will be especially tough because we're so young."

Johnson also realizes that she will have to step up to lead the team this season.

"I don't expect to do as well as last year," she said. "But we do have a lot of good athletes, and it takes a while to come together. We have to win the ones we're supposed to, and steal a few also."

She also said that the newcomers are coming along well, but that it's an entirely different experience and some players will take longer than others settling in.

Rubio sees Idaho, Indiana and Western Michigan as the Wildcats' most difficult opponents in the non-conference schedule, but isn't taking anybody lightly.

"Our goal every year is to make the NCAA playoffs," he said. "We should be significantly better by the end of the season."