The price of happy is too high
Amanda J. Feuerman
Arizona Daily Wildcat
September 21, 1998


Send comments to:


Wildcat File Photo
Arizona Daily Wildcat

Amanda J. Feuerman


Disneyland. "The Happiest Place on Earth." As the familiar white mountain appears on the horizon, I recognize the famous Matterhorn Bobsleds and know I am slowly approaching this child's fantasy world.

Around me, dozens of other anxious students are anticipating their day in "A Whole New World." Some saved up for this turn-around trip, others were splurging.

After all, it's Disneyland! Magical! Wondrous! Expensive.

I can't wait to tear through the park, riding as many rides as possible, eating as much cotton candy as I can, meeting the characters and having my picture taken with Mickey, buying souvenirs, getting one of those cool Mickey Mouse-shaped balloons...

My 14 hours at the park speeds by. By the end of the day, as midnight approaches, I am so tired, one might dare call me delirious. My friends are so giddy from the sleep deprivation, we're sitting at the front of the park collapsed, mumbling any thought that might pass through our mind.

And one thought I can specifically recall: "DAMN! I'm BROKE!"

That's right folks, the happiest place on Earth is also the most expensive place in the UNIVERSE. For the "rock bottom" price of $38 you can spend one fun-filled day in Disneyland. Even kids aren't so discounted anymore: ages 3-11 get in for just $10 less.

Of course, us "starving college students" forked up an extra 27 precious dollars for the 12 hour bus trip that got us there and the eight hour journey back.

So once you've paid out the admission, into the park you go. Brace yourself people... Have your wallets ready...

Hungry? Thirsty? Between rides, maybe you wanna grab a Sprite? The same 75 cent Sprite I buy at Hillel after Hebrew class is $2.50 in Disneyland.

And an ice cream? About the same.

Now you're eating a $5 snack. And not anything special. An ice-cream cone and a Sprite. A simple piece of candy can be as much as $1.25.

If only they accepted All-Aboard.

And you'd probably want to grab a meal or two. Sure, college students get hungry too. First, you have to figure out where you want to eat. Finding a hamburger in Disneyland is not as easy as you may think. And if you want a cheap meal, it's probably gonna be a burger and fries.

Now that you've decided, it's time to wait in line. Whether it's at a window where you dictate your order to the teen-ager behind the counter, or waiting for a table to open up at a restaurant on Main Street, the dreaded line awaits.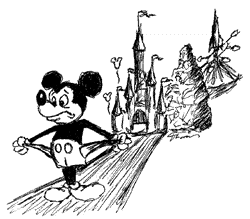 All finished eating and drinking? Maybe you want a souvenir to remember your trip by? Something to hang on the wall in your dorm room? No problem!
There are dozens of shops and gift stands around the park, the most prestigious one being The Emporium that runs up a whole side of Main Street. Everything and anything Disney. T-shirts in every style and color. Or even sweatshirts and flannel pajamas.
A simple T-shirt could run you as much as $50 and a sweatshirt as much as 90 bucks. More than you paid to get in to begin with!
Me? I just wanted an oversized T-shirt, something comfortable to change into for the long ride home.
After all, I'd been in my jeans for nearly 24 hours now.
I settled for a boring gray T-shirt with Mickey on it for $16. A shirt I could get at Target for 5 bucks on sale.
Or is clothing not for you? There's a beanie baby for almost every character.
Take a mini-Tigger home with you for just $6. A cheap souvenir by Disney standards and even reasonable by college student living standards.
Coffee mug? Pen set? A hat? Well-over $10.
So at the end of the day, not only was I delirious, but broke as well. I broke down and bought the Tigger beanie baby, a $2.50 Sprite, not to mention my meals, and some trinkets for my friends.
College student or not, you just can't help yourself when you're in the happiest place on Earth.
And not only myself, but the dozens of other students with me on trip. Some spent as much as $100 on souvenirs!
And is it worth it at the end of the day when you're dead-tired, broke, and aching from head to toe? Could you, at that point, still call Disneyland the happiest place on Earth?
Amanda J. Feuerman is an undeclared sophomore and can be reached at Amanda.J.Feuerman@wildcat.arizona.edu.Her column, Swimming with Sharks, runs every Monday.