UA juggernaut rolls to San Diego tonight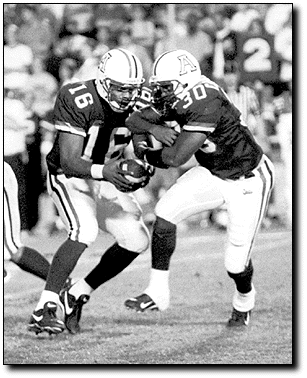 Nicholas Valenzuela
Arizona Daily Wildcat

UA sophomore quarterback Ortege Jenkins (16) fakes the hand off to junior tailback Trung Canidate (30) Saturday in the Wildcats' victory versus Iowa. The No. 16 Wildcats go up against a winless San Diego State tonight in San Diego.


The Arizona football team blinked, and its week was over.

Now it's game time again.

The Wildcats (3-0) go up against San Diego State (0-2) in San Diego tonight at 5, fighting to extend their seven-game winning streak and keep their undefeated season alive.

No. 16 Arizona got only a five-day break between beating Iowa Saturday and facing the Aztecs.

"I really don't think that's a story," UA head coach Dick Tomey said of the short week. "You don't need to give yourself excuses like that."

Tomey spent the week condensing practice time to only three days instead of the usual four or five.

"The players would like to have it like this all the time," he said. "The big thing we were worried about was whether the guys had enough rest. They've done a good job concentrating and looking at the tape this week."

The Aztecs, by comparison, have had 12 days to prepare for the game, as they had last weekend off.

"Most coaches don't like to have a bye early in the season," San Diego State head coach Ted Tollner said. "But it was at just the right time for us. The extra few days were perfect."

Arizona enters the game having beaten its first three opponents by a combined score of 93-31. But the players know that the Aztecs' defense has the talent to put a stop to the Wildcats' high-scoring offense.

"They're a different team than Iowa was," senior tight end Mike Lucky said. "They're more athletic. They ran some blitzes on us last year that they got past us."

UA junior running back Trung Canidate summed up the Aztecs' defensive line as "fast."

"It'll be a more physical match-up (than Iowa)," he said.

Led by strong safety Rico Curtis' team-high 14 tackles and All-American candidate Kabeer Gbaja-Biamila's five tackles for a loss, the Aztecs' defense has Tomey worried.

"They're much quicker and more consistent than Iowa," Tomey said.

Arizona's offensive line, which dominated Iowa, will have the task of stopping the Aztecs' pass rush, something it didn't always do last year.

A key could be Lucky, who will stay on the line to block when quarterbacks Keith Smith and Ortege Jenkins go back for a deep pass.

"When Mike stays in to block, I know he'll stop whoever is rushing him," Smith said. "He's got real good feet and San Diego State threw a lot of blitzes at us last year."

Jenkins started against the Aztecs last year after Smith had been hurt in the previous game against UCLA. Jenkins led the Wildcats out from a 21-0 first half deficit with 285 passing yards and three touchdowns.

With Jenkins and a number of other key players from last year's game back, Tollner is expecting another rough time.

"You can't say there's one thing about them that stands out," he said. "They have a diversity of quality players. You can't zero in one of their receivers or another one will burn you. They can hurt you with a lot of people."

While the Arizona offense has plenty of weapons to unleash upon the Aztecs, San Diego State's offense has struggled mightily through the first two games.

The Aztecs have amassed only 436 yards of offense in two games, compared to Arizona's three game average of 452.3 yards.

Adding more bad news for San Diego State is the fact that starting running back Jonas Lewis will miss the game after injuring himself against Southern Cal two weeks ago. Sophomore Larry Ned, who has only 61 yards on 16 carries, will be given the majority of the carries in Lewis' absence.

Also starting his first game for the Aztecs is quarterback Brian Russell, who came in to replace Spencer Briton when Briton sprained his thumb against the Trojans.

"Brian Russell looked like somebody who's played some," Tomey said. "The most difficult situation a quarterback can find himself in is the one he was in last week. He'll be much more able to handle the challenge this week."

Chris Jackson can be reached via email at Chris.Jackson@wildcat.arizona.edu.