A new name for UA's affirmative action office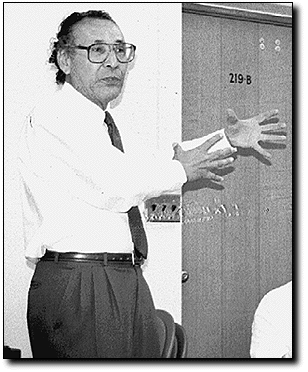 Wildcat File Photo
Arizona Daily Wildcat

"Affirmative action and equal opportunity go together anyway. It'll be harder to say. That's it." Salomon Baldenegro,assistant dean of student affairs


What's in a name?

Quite a bit - if you' re talking about affirmative action at the UA.

The University of Arizona Affirmative Action Office stirred up discussion earlier this month when university officials renamed it the Equal Opportunity and Affirmative Action Office.

While the change doesn't affect office policy, it is an important thing for students to note, said Janie Nu–#241;ez, associate vice president of affirmative action. She said the new title reflects the office's commitment to provide more services to students than in years past.

Nu–#241;ez said the old name carried a somewhat different connotation, and the new one more accurately reflects the office's work.

"There's a perception that, by saying affirmative action, this office doesn't deal with equal opportunity," she said. "We've always been mindful of it."

Nu–#241;ez said office staff plans to offer students more services, but that there are no established goals as of yet. The term "equal opportunity" applies to student admissions and employment, whereas affirmative action deals with employees.

Carol Thompson, UA associate dean of students, said she does not foresee controversy accompanying the name change.

She is, in fact, supportive of the change "as long as the mission is well-defined, and as long as they are able to articulate that mission."

The office should "make sure that faculty, staff and students who want to take advantage of its programs are aware of this mission," she said.

Nu–#241;ez said office staff talked about changing the name since marketing students stressed equal opportunity and diversity in a campus campaign two years ago.

Interdisciplinary studies senior Carolina Carbajal said she is pleased the office will be serving more students and hopes it will fulfill that promise.

"I hope it's not just something they put in the mission statement and then never look at again," she said. "It (the name change) might be a good idea, but it might also be diverging from its (affirmative action's) purpose."

Salomon Baldenegro, assistant dean of student affairs, called the name change "a routine thing" and said that people who utilize the office won't care what the office is called.

"Affirmative action and equal opportunity go together anyway," he said. "It'll be harder to say. That's it."

Erin Mahoney can be reached via e-mail at Erin.Mahoney@wildcat.arizona.edu.