The road nearly not taken

Wildcat File Photo
Arizona Daily Wildcat

Glenda Buya-ao Claborne


I made an appointment for an abortion with Planned Parenthood when I got pregnant, unplanned, with my third son. I was 26, four years married and already had two children, 1 and 3, whose hands, feet and heads needed all sorts of mittens, boots, bonnets and blankets every time we went out into the Vermont winter.

I was doing odd jobs giving out psychological tests to alcohol and drug dependents and also taking care of elderly patients. It was my third year in this country and both my husband's family and mine were not anywhere near. Vermont was our fourth move in four years: before that we had gone from the Philippines to Arizona and then to Ohio.

I also just got accepted to nursing school, a compromise to my original dream of becoming a physician.

On the appointed day, I broke down. Told my husband we were not going and called the clinic to cancel the appointment. My husband run out and came back with a bouquet of flowers and I just cried and cried.

I look at my 8-year-old boy now as he eagerly packs for his hockey practice and I think there is nothing in the world that I will not give up for him.

It's never an easy decision for women when it comes to keeping or terminating an unplanned pregnancy. Who can tell any woman what she's giving up or what she's growing into when she makes either choice? Each woman's circumstances are different and I can only share my experience.

But I would argue strongly for guarding our hearts, minds and souls from the coarsening effects of laws and technology that can give the false structures and impressions of what a good life must be.

What determines our view of a robust and fulfilled life for women? What determines what we consider a bleak and unfulfilled life for women?

There were many times in my married and domestic life, as we moved some more to San Francisco, then to Sri Lanka, when I feared strongly that my brain would atrophy into nothing. I organized dinners while my husband talked politics with the guests. When I entered the conversation, the guests and I only talked about how good my carrot cake was and could I please give them the recipe? When I talked to other women, we talked mostly about our kids, husbands and more recipes.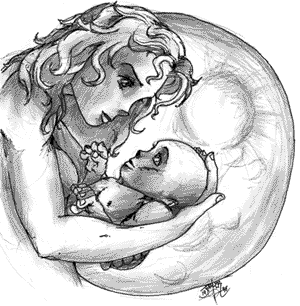 I knew what a silent scream means.
But there were also countless moments when I felt I was both a spectator and a full participant in the wisdom of the ages as my husband and I shared in bringing up our kids.
There is nothing that can beat moments like when my heart is just bursting with affection as I gaze at my sleeping children. The stinky diapers, sleepless nights, spaghetti-stained carpets, runny noses and days of depression all become part of a challenging and fulfilling adventure.
It is very frustrating for women who chose or who happened to have a family first to get back to the workforce and be able to use college degrees that they have earned more than a decade ago. Sometimes I get depressed about not having much on my reacute;sumeacute;. Most competitive situations follow conventional standards for hiring or admission. In these situations, no one seems to give a whit about "the most challenging job in the world." There is even the implicit reproach that these women could have chosen otherwise and should have planned better, etc.
I know how it feels to have so much in one's head and be compared to conventional measures of intelligence and achievement. But life's like that.
Next year, my oldest will turn 13 and will be entering high school, my second will be 11 and going to middle school and the third will be in fourth grade. I know I have some hard challenges to face but it's life for me and I love it.
Glenda Buya-ao Claborne is a undeclared graduate student and can be reached at Glenda.Buya-ao.Claborne@wildcat.arizona.edu. Her column, Sitting on the Fulcrum, appears every Monday.