Diabetics urged to get flu shots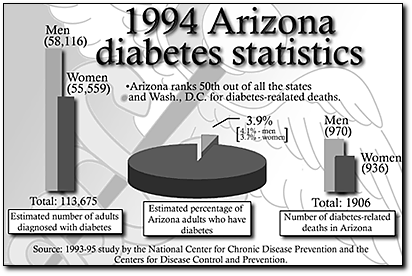 Wildcat File Photo
Arizona Daily Wildcat


Arizona Daily Wildcat

For people with diabetes, shots are a part of life.

But state health officials say there is one important vaccination diabetics often neglect.

The Arizona Department of Health Services is urging people with diabetes to get an influenza shot when the vaccine becomes available in October.

Because diabetes can weaken the immune system's resistance to infection, even minor viruses can have a devastating effect on those who suffer from the chronic illness.

"People with diabetes are six times more likely to suffer from complications," said Beverly Judie, manager of the Arizona Department of Health Services diabetes control program.

As many as 30,000 people with diabetes die each year of complications from influenza and pneumonia. More than half of those people never receive annual flu shots, according to the Arizona Department of Health Services.

Diabetes limits the body's ability to produce insulin, a substance that helps distribute blood sugar to cells. Diabetics suffer from symptoms such as chronic fatigue, vision problems, weakened immune systems and eating disorders.

If left untreated, the disease can lead to blindness, heart disease and early death.

Up to 80 percent of all deaths from influenza can be prevented with a flu shot, according to the U.S. Centers for Disease Control and Prevention.

Even if a vaccinated person catches the flu, the vaccine can reduce the severity of the illness and prevent it from spreading into the lower respiratory tract, according to the Arizona Department of Health Services.

The influenza vaccine will be available to students at the UA Student Health Center for $6 and is not just for diabetics, said Jolie Schaeffler, a nurse at the Student Health Center.

"All students should get it because of the closeness in classrooms, dorms and frat-ernity or sorority houses," Schaeffler said.

Stephanie Corns can be reached via e-mail at Stephanie.Corns@wildcat.arizona.edu.