Sprotte enjoying his new role as defensive leader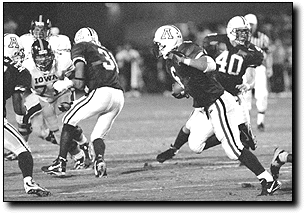 Wildcat File Photo
Arizona Daily Wildcat

UA defense runs a screen in front of inside linebacker Scooter Sprotte (6) during Arizona's game against Iowa last weekend. Sprotte had two interceptions against San Diego State during Thursday night's game, and leads the team with three overall.


One of the hardest things to do in football is switch from the offensive side of the ball to the defensive side.

If anyone knows of this hardship, it is Arizona junior inside linebacker Scooter Sprotte.

"I'm doing all right, progressing each week," Sprotte said. "I have a lot I can still do better such as getting clean reads on the run and pass."

After four games as a starting inside linebacker for the Wildcats, Sprotte has 15 tackles, three for a loss and an unexpected three interceptions.

"I don't think any linebacker can see themselves with three interceptions at the beginning of the season, but if you can drop back and read the eyes of the quarterback you always have a chance," he said.

Sprotte has been doing just that as he intercepted one against Iowa quarterback Kyle McCann in the Wildcats' 35-11 win Sept. 19 and two Thursday against San Diego State quarterback Brian Russell in the 35-16 win over the Aztecs.

Sprotte redshirted last season in order to develop his skills as a defensive player after playing tailback and fullback in 1995 and 1996. He did contribute in that position, but the coaching staff felt he was better suited to play defense.

"He is seeing it better every day," UA defensive coordinator Rich Ellerson said. "It's a whole new adventure for him."

Sprotte said he feels he is fitting in well with the defensive scheme. "It's pretty good because they have me at a mix of strong safety and linebacker," Sprotte said. "But again, everything is good when you are 4-0." After the first four weeks Sprotte leads the Wildcats in interceptions and is fourth on the team in tackles.

He has impressed the coaching staff with his development but head coach Dick Tomey understands that the real test will come this weekend when the Wildcats face their first top 25 team and Heisman trophy candidate in the Washington Huskies and quarterback Brock Huard.

"I think he's grown a lot, but I think we are going to know a lot more of our team after this next week," Tomey said. "The task becomes much more difficult now and anything we say about how much we have all grown is not really good until we face our big tests."

Washington will be looking to come back after getting blown out by the Nebraska Cornhuskers 55-7.

"I'm not worried but at the same time I am," Sprotte said. "They are going to come out with a do-or-die attitude, but we know the feeling because they beat us real bad last year and that is when we decided it was time to turn around our season."

But as impressive as Sprotte has been so far, he said he isn't yet as good as he wants to be.

"I like to think I am still beginning and I have a long ways to go," he said.

Dan Rosen can be reached via e-mail at Dan.Rosen@wildcat.arizona.edu.