Soccer stands undefeated at home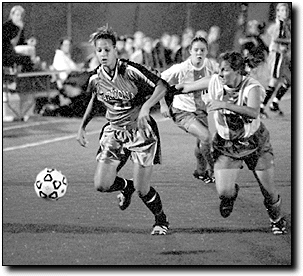 Ian Mayer
Arizona Daily Wildcat

Sophomore midfielder Brooke McManus dribbles the ball down the sideline against Denver University Friday night. McManus scored a goal in the first half as the Wildcats won 3-1.


The UA women's soccer team was finally able to find the back of the net Friday

night, adding three goals and snapping a five game winless streak.

"We were out for redemption," junior midfielder Megan Canaday said. "We had a bad start, but we've improved with each game. And we wanted everyone at home to know we're going to do some good stuff. We started our winning streak."

In front of just over 770 spectators, the Wildcats (2-4-1) defeated the Denver Pioneers (3-3-1) 3-1 at Murphey Stadium.

At halftime the score was tied, 1-1, and the Wildcats seemed to be struggling with finishing their shots. After six games on the road, and outshooting their opponents in every match, Arizona was only able to return with one win and six goals. The players said they just couldn't find the back of the net on their shooting opportunities.

"You guys this is our wake-up call," senior forward Nikki Jones said to her team at halftime, referring to the tied score and the Pioneers' early goal in the first five minutes of the game.

She said she just couldn't come out the second half and fall short of scoring goals.

So Jones, along with the team, prepared for "what we needed to do to get back into the game."

Jones was the first to take action when she took on Denver senior goalkeeper Jennifer Simmons one-on-one. Jones had a breakaway run down the field, fought off the defenders and was able to recover her control, sliding the ball past Simmons.

The goal pushed the Wildcats ahead 2-1, adding to sophomore midfielder Brooke McManus' score in the first half.

In the first quarter of the game, Canaday sent the ball to Jones, who in turn crossed it over to McManus, tying the game up.

"We became a lot more focused on our finishing for this game," head coach Lisa Fraser said. "Especially in the second half. We discussed at halftime that we needed more numbers forward, so we talked about how we would move up and out quickly from our defensive half."

The Wildcats assured the win with a goal from freshman midfielder Twila Kaufman, off an assist from Canaday, to put themselves up 3-1.

"We are really working on our finishing," Kaufman said. "We are building up for the Pac-10 and we're coming together with every game."

Before entering Pacific 10 Conference play Oct. 9, the Wildcats will look for one last non-conference win against the Lumberjacks of Northern Arizona today at 3 p.m.

The players are looking forward to facing their instate rival at Murphey Stadium and keeping their undefeated home record.

"They will be like Denver," Fraser said of NAU. "(But) being home will help us because it is fun and exciting and nice to be back on our routine."

The Wildcats beat the Lumberjacks in an exhibition game last season.

"We're building up our confidence," Canaday said. "We have some good chemistry going. And everyone is mentally ready and up for the game, especially because it is sort of an instate rival."

Kate Longworth can be reached via e-mail at Kate.Longworth@wildcat.arizona.edu.