The major market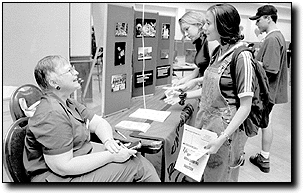 Dan Kampner
Arizona Daily Wildcat

Undecided freshman, Nicole Nichols, gets the important vital signs about the college of nursing from lecturer Marilyn McConnell yesterday at the Meet Your Major Fair in the Arizona Ballroom. Nichols was among the many students who jumped at the opportunity to talk with advisers about different majors.


The Memorial Student Union's Arizona Ballroom turned into a "major" department store yesterday for the Fifth Annual Meet Your Major Fair.

More than 1,000 University of Arizona students tried on different majors for size, searching for the career best-tailored to their interests. UA colleges and departments tried to inform and recruit students in the Memorial Student Union from 10 a.m. to 2 p.m. yesterday.

Undecided freshman Josh Silverstein was merely window shopping at yesterday's fair.

"I'm just a freshman - I'm just starting," he said.

Silverstein said he is not stressed out about finding a major, adding that the fair was his first exposure to all the possibilities out there.

"I'm undecided and I wanted to check it out to see what is going on," he said.

The fair was geared toward about 1,500 students at the UA who have yet to declare majors and those who are looking to change career paths, UA Freshman Academic Specialist Sharon Aiken-Wisniewski said.

Some students who visit the Advising Center for Exploratory Students, which sponsored the fair, feel like they are the only people on campus unsure about their majors, she said.

"It (the purpose) is to expose different academic areas available at the UA for students to make an informed choice," Aiken-Wisniewski said.

Assistant economics department head John Drabicki described the fair as a "convenient, one-stop shopping place."

Drabicki said the 40 students who visited his economics department booth asked about career opportunities and course requirements.

"We came here to provide opportunities to students to learn about programs," he said.

The Advising Center for Exploratory Students bumped up its advertising campaign this year, hanging about 100 posters in residence halls, the Student Union and campus buildings, Aiken-Wisniewski said. She said the organizers also used Listservs and Arizona Daily Wildcat advertisements to present the opportunity to students.

Greg Thomas, a fine art studies sophomore, said he used the fair as a resource because he had class during the fair.

"I was here for about five minutes," Thomas said, but added that he picked up some brochures and found out who to contact in departments for questions.

Rachael Myer can be reached via e-mail at Rachael.Myer@wildcat.arizona.edu.