A Presidential Performance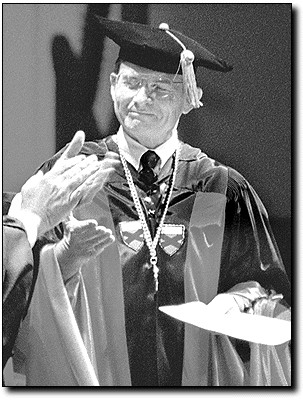 Wildcat File Photo
Arizona Daily Wildcat

President Likins is congratulated by various College Deans during his inauguration ceremony last year. Likins took over as the University of Arizona's 18th president, after spending 15 years at Lehigh University in Pennsylvania. He replaced former UA president Manuel Pacheco.


UA President Peter Likins begins his second year in office today, but don't expect him to slow down for an anniversary party.

"A successful first year will not make a presidency, but an unsuccessful first year can ruin a presidency," Likins said. "The same applies to year number two."

Likins took over as the University of Arizona's 18th president one year ago today, after spending 15 years at Lehigh University in Pennsylvania. He replaced Manuel Pacheco, who left to become president of the University of Missouri school system.

During his inaugural week, Likins said his major first-year objective would be "the education of the president."

"I knew I had a single objective - to meet the people that would make me a successful president - and I developed the kind of relationships that can define a presidency," he said.

Likins said Tuesday he believes he accomplished that goal and will concentrate on another aspect of the presidency this year.

"I am much more concerned with my responsibility as a manager," he said.

Likins said the relationships he worked to build included those with UA students, faculty, administration, the Arizona Board of Regents, the state Legislature and Gov. Jane Hull.

Jerrold Hogle, UA faculty chairman, said Likins accomplished what he set out to do.

"He has been very effective with the regents and the Legislature, and has raised support for the university," Hogle said.

Hogle said the relationships Likins built improved people's attitudes on the UA campus.

"I think what he has done is raise the morale of the university by standing up for us at the state level," Hogle said.
First-year issues
Likins' first 365 days at the UA were not devoid of controversy.
Last spring it was determined that the UA illegally released faculty and student Social Security numbers to MCI Telecommunications Corp. and Saguaro Credit Union. Although Likins was not directly involved, he took responsibility for the incident.
Regent President Judy Gignac said it is that type of job approach that makes Likins an effective leader.
"He has a refreshing sense of 'The buck stops here,'" Gignac said. "The few cases where he has determined an error has been made, he says 'We made a mistake and we'll do better.'"
Hogle agreed that Likins stands behind his decisions.
"He has remarkable moral fiber," Hogle said. "He makes a decision and stands behind it."
Another matter Likins dealt with this past year was the Marguerite Kay investigation.
Kay was a tenured Regents professor in UA's microbiology and immunology department whom Likins dismissed July 31 for scientific misconduct, after nearly two years of faculty inquiries and a one-month investigation of his own.
Likins said his role in the firing is not yet over.
"I have not yet met my obligation to explain," he said. "Before the year is up I will talk to the (UA) Faculty Senate. I will put myself on the hot seat and explore any concerns they have."
Likins also faced opposition for his decision to sign a contract with Nike. The contract supplied uniforms to 18 of the UA's Division I sports teams.
A group of UA students formed a local Students Against Sweatshops chapter to protest Nike's labor practices in southeast Asia and denounce the contract.
Michael Cusanovich, UA vice president for research, said despite the controversies that arose during Likins' first year, he considered it a success.
"Given the circumstances, there is nothing he could have done differently," Cusanovich said. "It was a good year."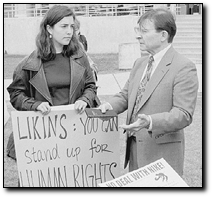 Wildcat File Photo
Arizona Daily Wildcat
President Likins fields questions from concerned university students regarding Nike human rights issues in front of the Administration building last year. This is one of many issues Likin's has had to contend with as president.
A new focus
Cusanovich said Likins' goals for his second year should involve fiscal advancement.
"A big issue for us as an institution is the budget," he said. "After so many years of cuts, shepherding the budget is the key thing on the horizon."
Tara Taylor, Associated Students president, said Likins should concentrate on maintaining tuition costs.
"He needs to keep tuition at a reasonable cost," Taylor said. "He needs to make sure the decisions he makes in regards to tuition are well thought out."
Likins said his goals for the upcoming year will be to start working toward the school's long-term plans.
"When I look back after five years, I hope I have realized some of the goals of the institution," Likins said. He described those goals as a major fund-raising plan, working on strengthening relations with the government and finding ways to use university resources more efficiently.
"I have said we need to build a stronger sense of community," he said. "There are people who don't feel themselves truly a part of the university family or part of the team."
Day-to-day
To accomplish everything his job entails, Likins said he spends 16-18 hours working every day, six or seven days a week. He said the hours don't bother him, although he is unsure of how many years he can keep it up.
"I expect I will be here as long as I have the strength," he said. "But at 62, I probably don't have 10 years. I need to be able to maintain my strength."
Likins said he felt fortunate that his wife of 43 years, Patricia, accepted his choice to work long hours.
"She knows I am a little peculiar," he said. "But my job and my family have always been the totality of my life."
Despite his schedule, Likins said he and his wife and have found time to familiarize themselves with Tucson and its inhabitants.
"I love the people of Tucson and the way people of different backgrounds come together," he said. "My wife and I feel more at home with the people of Tucson than we ever have before."
A president for the people
Even though Likins was busy learning the ropes of his new job, he still found time to meet with the UA community.
"I have been here 24 years and I feel he is the most accessible of any of the presidents we have had," Hogle said.
Taylor said Likins made himself available to students as well.
"He will go out in the UA Mall when he has 10 minutes to talk to students," she said. "He does that because he is an extrovert and gets his energy from other people."
Gignac said after a year of observing Likins as president of the UA, the regents have made a decision on his immediate future.
"I think we'll keep him," she said.
Anthony C. Braza can be reached via e-mail at Anthony.C.Braza@wildcat.arizona.edu.