Senate resolves to consider resolving resolutions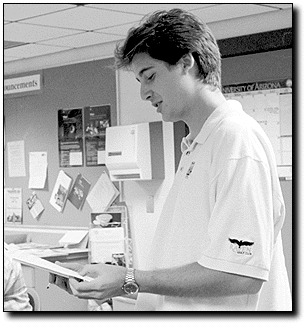 Jennifer Etsitty
Arizona Daily Wildcat

Economics sophomore Travis Klein addresses the ASUA Senate last night about problems in finding a parking space on the UA campus. Klein is a student representative on the board of Parking and Transportation.


A proposed resolution calling for the elimination of some paid university parking sparked debate among ASUA senators last night.

Economics sophomore Travis Klein, who co-authored the resolution, expressed his disgust with Parking and Transportation Services and said the Associated Students should work toward breaking up what he called a "monopoly" in parking services at the University of Arizona.

Klein's resolution, presented only for discussion, called for "full denouncement of the University of Arizona Parking and Transportation (Services) Department's policy of charging students to park in non-garage, open-air parking spaces."

Klein, who does not work at ASUA, said parking and transportation should either increase garage parking fees to defray the costs of free lot parking, or stop charging altogether.

"Why are they in the parking business if the campus is for people, and not for cars?" he said.

Marlis Davis, parking and transportation director, said she neither supports nor denounces the resolution, but allowing free open-air parking would place a large financial burden on her department.

Davis said the result of such a resolution would be disastrous.

"It would probably end up being chaos," she said.

ASUA Sen. Dave Snyder presented Klein's resolution as an informational item.

"The students need to address this issue," Snyder said. "We could really make a difference in the lives of students."

Sen. JosuŽeacute; Lim˜n said he wanted to meet with Davis and UA students to discuss parking problems.

"I feel that (this) resolution will not be dealing with the problems head-on," Lim˜n said. "I would like to challenge Marlis Davis to approach the Senate in order to explain any discrepancies."

ASUA President Tara Taylor commended the Senate on their concern for this issue and said that previous senates have attempted to resolve the problem.

"It would be very commendable if you're the Senate to do something about parking," she said.

In other business:

Lim˜n said he planned to place a resolution regarding library fees on next week's agenda.

"Absolutely nothing has been done about this issue," he said. "I think that's very unacceptable."

Lim˜n said if the resolution is ineffective, he will attempt to organize a demonstration to get the attention of library officials.

History sophomore Robert Peters addressed the Senate about a to-be-proposed resolution that would require ASUA to announce Senate meetings through the Arizona Daily Wildcat as well as on the UA Web pages and ASUA listserv.

Sen. Janet Rico said she contacted the Wildcat and added that future meetings will be publicized. Sen. Marisa Hall said she planned to place the resolution on next week's agenda.

Erin Mahoney can be reached via e-mail at Erin.Mahoney@wildcat.arizona.edu.