Bobbi Olson diagnosed with ovarian cancer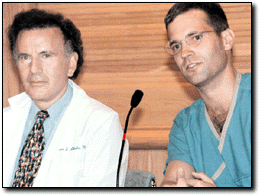 Katherine K. Gardiner
Arizona Summer Wildcat

Dr. Hank Hallum, (right) and Dr. David S. Alberts spoke with reporters yesterday about Bobbi Olson, wife of head basketball coach, Lute Olson. Doctors discovered ovarian cancer in Olson in mid-June.


University Medical Center doctors said yesterday that Bobbi Olson, wife of UA men's basketball coach Lute Olson, has been diagnosed with ovarian cancer.

Although the cancer has invaded her ovaries and spread into her abdomen, Olson's doctors said she has a hopeful future.

"I think Bobbi has an outstanding chance of very long-term survival," said Dr. David Alberts, associate dean for research in the University -of Arizona college of medicine. "You better get used to having Bobbi Olson around for a long time."

Alberts and Dr. Hank Hallum, a gynecologic oncologist and assistant obstetrics and gynecology professor, told scores of media members the specifics of Olson's condition yesterday at the Arizona Cancer Center.

After surgery to remove an intestinal blockage, performed during a family vacation in Hungary in June, Olson was diagnosed with an endometrioid carcinoma of the ovary, Hallum said.

She has gone through four chemotherapy sessions during the past two and a half months, he said.

Olson, 63, is suffering from the most common form of ovarian cancer - stage 3C - which attacks the ovaries and spreads to the abdomen, Hallum said.

Stage 3, a more problematic form, indicates that the cancer has spread outside the abdominal cavity or into the liver.

Surgery to remove the cancerous tissue is scheduled for next week, and doctors said they are expecting a successful outcome

"I'm very optimistic that there won't be anything (cancerous) left in her belly after the surgery," Alberts said.

In an effort to eliminate speculation and rumors about his wife's health, Lute Olson yesterday said she has responded well to initial chemotherapy treatments.

"Bobbi and I want to assure everyone that she is doing great and we have every reason to believe that her prognosis is excellent," he wrote in a prepared statement.

Lute Olson and UMC doctors said family privacy is important as they deal with the illness.

"Because of our desire for privacy, we hesitated making her condition public until we, as a family, understood the implications of this disease and what we were facing," Olson wrote.

UA Athletic Director Jim Livengood said yesterday that Bobbi Olson is an important part of the "Wildcat family."

"We're there - anything we need to do, we're ready to do," he said.

Alberts also praised the Olson family and said that Lute Olson "dropped everything" to be with his wife 24 hours a day.

"We had to try to get him to sleep," Alberts said. "It was a pleasure working with them."

The Olsons' five children, Alberts said, played an integral part in the process.

"Her son Steve has been cooking all her meals and her daughters were fabulous," he said. "You don't know a family until you see a situation like this."

Statistics released by the Arizona Cancer Center said one in 70 women will develop ovarian cancer and an estimated 25,400 new cases will be diagnosed this year in the United States.