2nd football scrimmage yields few answers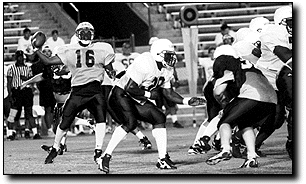 Nicholas Valenzuela
Arizona Summer Wildcat

Sophomore quarterback Ortege Jenkins (16) falls back and gets ready to throw a pass during last night's scrimmage. Jenkins threw two touchdowns while fellow quarterback Keith Smith threw three. Redshirt freshman Nick Fleury threw one touchdown and was intercepted once.


For the second time in less than a week the Arizona football team was summoned to Arizona Stadium for a two hour scrimmage.

This time, though, fans were not in attendance, and head coach Dick Tomey and his staff concentrated on improving the team from the previous outing.

Tomey played last night's scrimmage in a "controlled" fashion, putting himself on the field and calling the plays with his assistants.

Since it was controlled, the scrimmage, which lasted for three 12-minute quarters, did not in any way resemble a game.

When all was said and done, the offense had scored 10 touchdowns, while the defense had picked up one on an interception return by senior cornerback Chris McAlister.

Still, the biggest question confronting the team, who will start at quarterback against Hawaii in the season opener Sept. 3, was not answered last night, and Tomey said that it might not be answered any time soon.

"I don't know that it's in our best interest to do that," Tomey said when asked if and when he would name a starter.

Both redshirt sophomore Ortege Jenkins and junior Keith Smith started slow again before settling into a groove later in the scrimmage.

"It was a little different," Jenkins said of the second scrimmage. "We're both still having a little trouble throwing the ball."

Jenkins said that the biggest difference between last night's scrimmage and the one Friday was the absence of fans.

"The intensity level dropped," he said. "I tried to do better out there tonight, and I think I did, but it's still not good enough."

Jenkins said that the problem in the first scrimmage was that he "needed to warm up more.

"I think I got that tonight," he said. "That's why I looked a little better."

Tomey said that both Jenkins and Smith "have done a really a nice job during camp."

But play in practice and at Camp Cochise do not necessarily translate to good play in a game-type atmosphere.

"We've had two scrimmage situations and in neither occasion have they made the plays they made in practice," Tomey said.

Both Jenkins and Smith did have their moments in the scrimmage, though it was primarily later on in the evening.

Jenkins completed nine straight passes in the second quarter, mainly to Brad Brennan and Jeremy McDaniel, in leading a scoring drive capped by senior running back Kelvin Eafon's short plunge across the goal line, his second of the night.

"Those receivers made great catches," Jenkins said. "With their help I looked better tonight."

Jenkins had two touchdown passes in the game, one early to McDaniel and one to close the game to junior wide receiver Dennis Northcutt.

Smith only threw one pass, a short dump to Eafon, on his first series of the game, but he got the chance to show his stuff later on. Smith nailed McAlister, who was playing both offense and defense, for his first touchdown late in the first quarter.

In the second quarter Smith hit Northcutt for his second TD and then followed that up with a toss to McAlister, who stayed in bounds on his tiptoes.

Even third-string QB Nick Fleury had a TD pass, coming late in the game to back-up running back Joey Vela. Fleury was also picked off by McAlister for a TD earlier in the game.

Though both of his quarterbacks had their moments, Tomey was hesitant to give them too much praise for their efforts and maintained that he would not decide on a starter for a while.

"I don't know if it makes that much of a difference who starts," Tomey said.

He said that in the end it is more important who finishes the game than who starts it.

"You want to go with the guy who had the best stuff early on," he said. "We'll give both the opportunity at Hawaii to play, knowing that even if you pick one over the other you'll still have a valuable relief pitcher on the bench."

Tomey said that he might just wind up asking the players who they think would be the best choice to start in Honolulu, but he would not say if or when exactly he might do that.