Rodney Williams, Chester Burnett survive first wave of cuts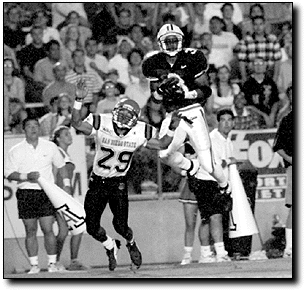 Wildcat File Photo
Arizona Summer Wildcat

Former Arizona Wildcat wide receiver Rodney Williams (3) goes up for a pass against San Diego State University last year. Williams was not selected during the NFL draft but has survived the first round of cuts for the Oakland Raiders, who signed him as a free agent.


By staff and wire reporters

As NFL teams cut their rosters to 60 players over the past couple of days, lifelong dreams can either stay alive or be destroyed.

Former Arizona players fell into both categories yesterday. Wide receiver Rodney Williams stayed on the Oakland Raiders and linebacker Chester Burnett is holding onto a spot with the Minnesota Vikings, while the Tennessee Oilers waived linebackers Armon Williams and Jimmy Sprotte.

The two aren't done yet, though, as teams will trim their rosters to 53 players before the regular season starts Sept. 6.

Williams had been considered a long shot to make the Raiders after being signed as a free agent out of the University of Arizona because of not being drafted. But after an impressive training camp culminating in a 7-catch, 89-yard performance against the Green Bay Packers, head coach Jon Gruden was forced to keep him on for the time being.

Williams, who will probably see most of his initial action returning kicks, will join a receiver squad that features 1987 Heisman winner Tim Brown and 1992 Olympic gold medalist sprinter James Jett if he makes the final roster.

Other notable players cut along with Sprotte and Armon Williams include former Notre Dame quarterback Ron Powlus (Tennessee), former Northwestern running back Darnell Autry (Chicago) and former Arizona Cardinals running back Leeland McElroy, who was waived by the Tampa Bay Buccaneers.

Reserve Florida Gator cornerback Cedric Warren is out for the year after rupturing a disc in his cervical spine.

Warren, a 5-foot-9-inch sophomore from Virginia Beach, Va., hurt his neck in a scrimmage last week, but neurological tests on Monday determined the extent of the injury. Warren had been a top backup to cornerback Dock Pollard.

"I'm blessed," Warren said. "I'm blessed that I wasn't paralyzed. It's a serious situation with anything with your neck. I'm pretty much going with what (the trainers) tell me."

A date has not been set for Warren's surgery, but the injury could be career threatening.

In more Gator injury news, The Florida offensive line that entered 1998 as a solid, 10-man unit, has good football team yet."

Aside from their on-field struggles, the Cornhuskers also learned I-back DeAngelo Evans likely will miss the first three games of the season with a knee injury he suffered in a scrimmage Aug. 14. Evans had arthroscopic knee surgery Saturday and said he hoped to return for the Washington game Sept. 26.