Wild play earns Wildcats another win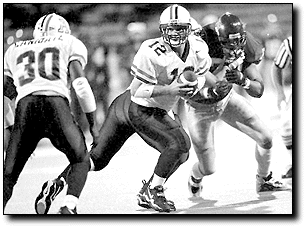 Associated Press
Arizona Daily Wildcat

UA junior quarterback Keith Smith (12) gets set to hand off the ball to junior running back Trung Canidate (30) in the first quarter of Saturday's game against the University of Washington in Seattle. The No. 10 Wildcats won in the final seconds of the game with a score of 31-28, improving their record to 5-0.


SEATTLE - It took an acrobatic flip into the endzone by sophomore quarterback Ortege Jenkins for the Arizona Wildcats to exorcise the demons of the Washington Huskies Saturday night at Husky Stadium.

In a game where the No. 10 Wildcats (5-0 overall, 2-0 Pacific 10 Conference) were without senior All-American cornerback Chris McAlister due to an NCAA rules violation and senior wide receiver Jeremy McDaniel, who suffered a groin pull in the third quarter, the Wildcats did manage to survive in the end for a thrilling 31-28 victory.

After UW kicker Jim Skurski missed a field goal that would have put the Huskies (2-2, 1-1) up by a touchdown, Jenkins led the Wildcats on a 13-play, 80-yard drive with 2:52 remaining, culminating in a 9-yard touchdown scramble by Jenkins with only four seconds remaining on the clock.

"It is the biggest win of my whole athletic career," Jenkins said. "I wasn't nervous at all. I just stayed in the pocket, stayed poised and God made it happen for me. It just opened up and I had to go for it."

Everything seemed to come together for the Wildcats on their last drive after it looked like it was all falling apart. Junior free safety Rafell Jones was ejected late in the fourth quarter for a personal foul and Mark McDonald missed a 38-yard field goal which would have made it a 28-27 game.

But it was Jenkins and Northcutt who calmed the Wildcats down and led the charge for the wild finish.

Northcutt, who finished the game with eight receptions for 92 yards and a touchdown, caught four balls for 31 yards on the final drive. Three of those four catches were for a first down on a third-down play.

"I've wanted to be a leader on this team," Northcutt said. "I know I can do a lot for this team to help win games. That is why I have been working so hard, to get the quarterback's trust. When Jeremy McDaniel went out I just had to do my job."

Jenkins finished the game going 10 of 19 for 111 yards and a touchdown. He also ran for 22 yards on five carries, including the game-winning touchdown, and he even caught a 22-yard pass on a first and 10 in the final drive.

"It was fun. I went out and ran, caught a pass and threw a pass," Jenkins said. "It was my dream game."

The second half of UA's quarterback duo, junior Keith Smith, did his part by going 9 of 14 for 146 yards and a touchdown. He was 6 of 7 for 99 yards and a touchdown after the first quarter.

"We have two great quarterbacks who really support each other," UA head coach Dick Tomey said. "They really work together."

UA caught a slight break when Husky quarterback Brock Huard went down with what was called a shoulder pointer, a bruise of the joint in the left shoulder, after he was hit by UA senior defensive tackle Daniel Greer late in the second quarter.

Huard was 10 of 16 for 131 yards when he went down.

Backup Husky quarterback Marques Tuiasosopo came in and did a solid job as Huard's replacement. He went seven of 14 for 77 yards, a touchdown and an interception. He also ran for a touchdown.

Junior Dane Looker and freshman Willie Hurst also did not disappoint the Huskies. Looker caught six balls for 84 yards and Hurst, in his first career start, ran for 93 yards and a touchdown.

Tuiasosopo had a critical 36-yard touchdown run called back because of an illegal block in the back. That touchdown would have put the game virtually out of reach for the Wildcats as they would have been down by 10 points without the extra point.

"This game is one that we carry very difficultly in our heart," UW head coach Jim Lambright said. "You don't lose a game in the fourth quarter, you find a way to win it. This football team would have won if we did a good job coaching."

In the same drive that Tuiasosopo's touchdown was nullified, the UA defense put on a goal line stand after Jones' personal foul and ejection.

That led to Skurski's missed field goal attempt from 23 yards and it also gave the Wildcats one last chance to score.

"I think our team knew we could keep it together," Northcutt said. "Chris wasn't here and Jeremy was hurt, but we all knew we weren't dead. We knew we could put it in."

Arizona's final drive not only saw them convert on three third downs, but it also had Smith coming in to throw a pass to Jenkins and sophomore Brandon Nash playing the role of unlikely hero by catching a 23-yard pass which brought UA down to the Husky one-yard line.

"We had worked on that play in practice, but I did not expect to go in the game," Smith said. "We just got it done and kept the trains moving."

It was not just on offense that the Wildcats managed to beat the Huskies, they did it with defense as well.

Junior inside linebacker Marcus Bell played perhaps his best game of the season by racking up 21 tackles, 11 of which were unassisted.

"We knew they had a great offense and I live for big games like this," Bell said. "I just try to play with great effort."

Junior strong safety Greg Payne contributed with his first interception as a Wildcat in the fourth quarter. He also finished with eight tackles and one pass broken up.

"We had so many heroes in this game. So much guts, so much 'stick-to-it-ivness,'" Tomey said. "Our guys, they didn't know they were on the road. People said that we hadn't played anybody, but we certainly showed that we have the elements of a good team. I couldn't be more proud of my football team and my coaching staff."

Dan Rosen can be reached via e-mail at Dan.Rosen@wildcat.arizona.edu.