Clinton approves education bill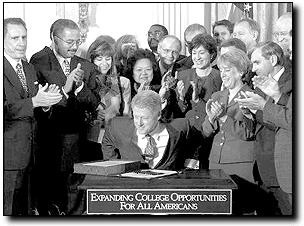 Associated Press
Arizona Daily Wildcat

President Clinton smiles after signing a higher education bill during a ceremony in the East Room of the White House yesterday while senators and representatives smile and clap. The higher education bill slashes student loan interest rates to their lowest level in 17 years, saving borrowers an estimated $11 billion over five years.


College students will be eligible for larger Pell grants, education loan interest rates will drop and campus crime information will become more easily available under legislation President Clinton signed into law yesterday.

Clinton approved the Higher Education Amendments of 1998 during a White House ceremony as Congress pondered part of the bill's funding and University of Arizona officials continued to investigate the impact of its provisions, which range from efforts to combat binge drinking and drug abuse to changes in the way universities report crime statistics.

More than 30 members of Congress and Education Secretary Richard Riley joined Clinton in the White House's East Room as the president emphasized one aspect of the bill that reduces student loan interest rates to 7.46 percent - the lowest in 17 years - and caps the rate at 8.24 percent.

"With this lowering of interest rates - we can really say that every high school graduate in America, regardless of income, can afford to go to college," Clinton said.

The new interest rate formula, based on treasury bill rates, will save a student who borrowed $13,000 about $700 over a typical 10-year repayment period.

"And anybody who can remember what it was like back then knows that $700 to a college student is still real money," Clinton said.

The measure also raises the maximum authorized amount of federal Pell grants from $3,000 per year to $4,500 for 1999-2000. The cap would increase incrementally in the following years, to $5,800 in 2004.

Congress, however, has yet to appropriate funding for the grants. A pending House appropriations bill, which should come to a full vote before the House's planned adjournment Friday, would appropriate $9.67 billion for Pell grants over the next two years - a $150 increase from the current academic year.

Additional provisions will provide grants for campus-based child-care programs and pay portions of teachers' and child-care workers' student loans.

Benjamin Lopez, Associated Students federal relations director, said ASUA has lobbied Congress for more student aid and is pleased with the bill.

"The increase in financial aid is important to students," Lopez said. "We've been lobbying on making sure the loans are able to be low enough so students don't walk out of here with a degree and a $20,000 debt."

Besides financial provisions, the new law also "expresses the sense of Congress" that universities should establish task forces to address binge drinking and create zero tolerance policies against under-aged drinking. The bill also requires the Justice Department to examine how sexual assault cases are handled by universities and makes students ineligible for federal aid if they are convicted of certain drug offenses.

Another aspect of the bill opens public access to some student disciplinary records. The law amends the Family Educational Rights and Privacy Act by permitting the release of information about the disciplinary hearing of a student who committed a violation of university policies related to a violent crime or sexual offense. Institutions will be permitted to release the name of the violator, the nature of the violation and the sanction imposed on the student.

Another amendment to FERPA allows institutions to inform parents of disciplinary violations related to drugs and alcohol, provided the student is under 21 years old.

University attorney Mike Proctor said yesterday that administrators and attorneys will meet over the next few weeks to determine how the UA will comply with the new law.

"It's just a matter of sitting down with it, getting the right people together and looking at where we have to tweak things," Proctor said.

Some provisions, like informing parents of their students' alcohol violations, appear to be optional, and administrators will ultimately decide if they will actively notify parents, provide information only if parents request it or neither, Proctor said.

"That's going to be an educational decision," he said.

The bill signed yesterday also expands the definition of "campus" that is used when colleges and universities report their annual crime statistics and make them publicly available and requires schools to break down their statistics to disclose exactly where each crime occurred.

The University of Arizona Police Department currently compiles crime statistics based on all crimes it responds to, regardless of where they occur, said Cmdr. Brian Seastone, a UAPD spokesman.

"In our case, we'll give it to the attorneys to decide what's the best course of action," Seastone said.

A clause in the bill makes most of its amendments effective immediately.

Joseph Altman Jr. can be reached via e-mail at Joseph.Altman.Jr@wildcat.arizona.edu.