A bushel of new recruits
By Chris Jackson
Arizona Daily Wildcat
August 27, 1998


Send comments to:
sports@wildcat.arizona.edu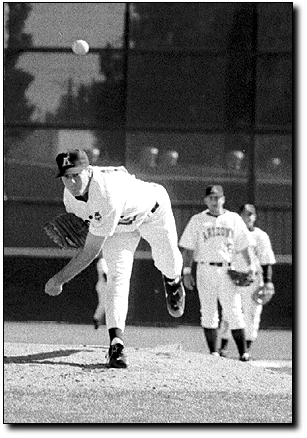 Wildcat File Photo
Arizona Summer Wildcat

Arizona Daily Wildcat file photo Senior left-hander Rob Shabansky pitches in a game last season. Shabansky is trying to recover from an elbow injury that sidelined him much of last year. He is the only senior on the pitching staff this year.


Monday was a good day for the Arizona baseball team - or at least a busy one.

Fifteen new players arrived on campus and officially became UA Wildcats, replacing the nine players who left to play professional ball in June.

"It's going to be really hard to get a spot on the team," said freshman Ben Diggins, who might be the biggest surprise arrival among the 15.

Diggins, a highly-touted prospect from Bradshaw Mountain High School in Prescott, was taken 31st in the Major League Amateur Draft by the St. Louis Cardinals.

UA head coach Jerry Stitt said after the draft he did not expect Diggins to ever suit up as a Wildcat.

"It's pretty good news," Stitt said when Diggins became a Wildcat for at least the next three years.

Diggins hit .573 last year with 11 home runs playing outfield and first base. As a pitcher, he went 7-3 with a 2.80 ERA and 95 strike-outs.

"He's definitely going to be a pitcher for us," Stitt said. "We're also going to have him working out at first base. He's a great hitter - a real two-way threat for us."

Still, Diggins wanted to play down his arrival and focus more on his teammates.

"We have a really, really good recruiting class," he said. "I'm just excited to be here."

Joining Diggins for the 1999 team are two other top high school hitters, Shelley Duncan of Tucson's Canyon Del Oro High School and Kenny Huff of Horizon High in Scottsdale.

Diggins called Duncan "the best hitter in the state."

"He could have gone high in the draft also, but he told everyone he was a college guy," Diggins said.

He said he didn't feel quite ready to make a move to the professional level.

"I think if you go straight to the pros, it's a lot harder," he said. "It's kind of you against the world. I think you get a little more individual work with the college coaches. You can develop better at this level."

Other players who will be looking to develop alongside Diggins are his roommate, freshman catcher Chris Cunningham, and Tucson residents Ben Winslow and Brad Hassey, infielders from Salpointe Catholic High School who could someday become Arizona's double-play combination.

Two late additions to the team from Tucson are infielder Kelsey Osburn (Sabino High School) and outfielder Scott Beck (Canyon Del Oro).

The only freshman pitcher to join the team is Brian Pemble of Tucson's Catalina Foothills High School, of whom Stitt said, "He showed up, thank goodness."

Still, the team has a total of four transfers coming in to bolster the pitching staff.

"I'm really happy with the quality and amount of pitchers we have," said UA pitching coach Bill Kinneberg. "It'll be real interesting fall for us competition-wise."

The four new pitchers are Wesley Zlotoff, who comes in from Brigham Young University, Sam Shelton (Central Arizona Junior College), Michael Crawford (Yavapai Junior College) and Josh Pearce, who faced the Wildcats last year for Portland State but jumped teams when PSU eliminated baseball from its list of sports.

"He was their number one guy," Stitt said. "He didn't do too good against us but did do very well the rest of the season."

Pearce gave up 10 runs in 3.2 innings pitched in a 25-6 loss to the Wildcats on Feb. 13.

Despite all the incoming talent, Kinneberg said that as of right now, no one is set as a starter, reliever or closer for the team.

"We're going to toss it up next week and go from there," he said. "We've got good depth and good quality of pitchers."

The biggest question among returning players is with left-hander Rob Shabansky, who was 5-1 with a 3.35 ERA last year before an elbow injury ended his season. Shabansky is the lone senior on the pitching staff and will be counted upon "to be a leader with both the pitchers and a team guy since he swings the bat as well," Kinneberg said.

Shabansky is about "75 to 80 percent ready" Kinneberg said, but he will not see much competition during the fall. Shabansky was the only drafted 1998 Wildcat to not sign a professional contract, opting to stay at UA and rehab his injury.

While Kinneberg must sort out the bevy of pitchers, plenty of other transfers, some from junior colleges and two from other Division I universities, have also joined the team.

Some, like catcher Dennis Anderson (Pima Community College) are expected to step into a starting role right away. Others tabbed for possible starting duty in the spring are center fielder Troy Gingrich (Central Arizona) and Tucson-native Andy Juday, who was the starting second baseman at Kansas for the past three years. Juday hit .347 last year despite suffering from mononucleosis.

The Wildcats return only one position player, sophomore shortstop Keoni DeRenne, meaning that Stitt and his staff will have to pick the other eight starters come January.

The pitching staff has only two returning starters - Shabansky and junior Tony Milo - who started last year 7-0 before ending the season in a 1-5 slump.

Most of the Wildcat lineup will be set Oct. 4-24, during the team's official fall practice.
| | | |
| --- | --- | --- |
| Pos. | Year | Name |
| OH | Jr. | Raelene Elam - Finished 3rd in Pac-10 with 0.35 service aces per game |
| OH | Fr. | Lesley Dubois - Named to Volleyball Magazine's Fab 50 freshmen |
| OH | So. | Alison Napier - Honorable Mention All-Pac-10 Freshman last season |
| S | Fr. | Dana Burkholder - Volleyball Magazine third-team All-American |
| MB | Sr. | Keisha Johnson Demps - Third on last year's team with .84 blocks per game |
| MB | So. | Marisa DaLee - Hit .391 over her last 11 matches |