Man, 85, dies after three-story plunge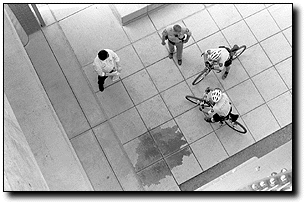 Ian Mayer
Arizona Daily Wildcat

Three unidentified police officers stand by as an unidentified janitor applies a cleaning solvent to Maurice E. Free's vomit yesterday at the Aerospace and Mechanical Engineering building. Free fell to his death from an outdoor third-floor walkway in the AME building yesterday morning.


An 85-year-old Tucson man was killed yesterday morning after he fell from an outdoor third-floor walkway atop the Aerospace and Mechanical Engineering building, authorities said. Police are treating the death as a suicide.

Maurice E. Free, of the 1800 block of North Highland Avenue, was transported to University Medical Center and pronounced dead at 11:44 a.m. by Tucson Fire Department medics, said Cmdr. Brian Seastone of the University of Arizona Police Department.

Free reportedly suffered from Alzheimer's disease and had a background of psychological problems, Seastone said yesterday afternoon.

"It was a suicide," he said.

Free reportedly crawled over the walkway's protective railing before plunging about 40 feet to the concrete courtyard floor of the building, 1130 N. Mountain Ave., Seastone said.

Before officers and medics arrived, Nathaniel Morgan saw Free fall and ran to the man, who was lying on his right side in the southwest corner of the AME courtyard.

Morgan, a mechanical engineering junior, said he yelled for someone to call 911 and tried to comfort the man, who was still breathing at the time.

"I was basically talking to him and I had my arm lightly around him," Morgan said, adding medics arrived in about two minutes, just when Free stopped breathing and appeared to choke on vomit.

When authorities arrived at 11:16 a.m., medics administered CPR for about two minutes before moving Free to a gurney and taking him to UMC.

An experienced rock climber, Morgan said he had received training in what to do with a fall victim: Don't move him if he's breathing and apply CPR if he stops.

"It's not a comfortable thing to fall from 40 feet and land on your side," Morgan said.