Accusations fly within ASUA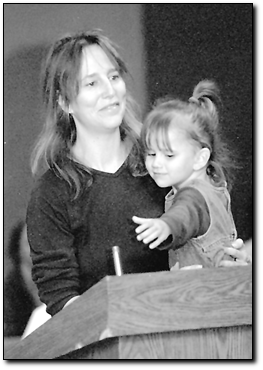 Nicholas Valenzuela
Arizona Daily Wildcat

Accounting senior Laura Liewan holds her daughter Sasha while she speaks to the ASUA Senate about the problems that students have with child care. Many student-parents spoke out to ASUA last night and had feedback from President Likins.


A top ASUA official yesterday alleged that Associated Students President Tara Taylor has overstepped her bounds with her response, or lack thereof, to a recall petition targeting the organization's administrative vice president.

Elections Commissioner Anthony Hill said he is considering resigning because of what he feels are unfair practices by ASUA leaders in response to a request for a recall election issued against Administrative Vice President Ryan Rosensteel last week.

Hill said he met with Taylor Monday to discuss his role in overseeing the recall process.

"I was given a half-hour lecture (from Taylor) on the virtues of ASUA," Hill said. "I was accused of not helping Ryan Rosensteel enough."

Taylor said there is "a lot of bureaucracy involved" in a recall process, and she met with Hill in order to clarify their positions.

"It's our job, he and I, to be unbiased," she said.

The petition was issued by economics sophomore Travis Klein who alleged, among other things, that Rosensteel had used "questionable practices" during his campaign, including using ASUA materials and campaigning at the International Students' Association, which is associated with ASUA. Rosensteel said yesterday that he was unaware of Hill's accusations and declined comment.

Hill said he was informed that the voting allegations issued against Rosensteel had to be dropped from the petition because it did not occur during Rosensteel's term as vice president.

Hill said he struck the item with the intention of pursuing the charges as a separate investigation.

"The president (Taylor) told me I was not to conduct an investigation," Hill said. "Tara was alluding to the fact that she couldn't trust me as elections commissioner anymore."

According to Taylor, Hill could not investigate the charges because they did not occur during his term as elections commissioner. Taylor said such allegations should have been addressed during Rosensteel's campaign and would have fallen under the jurisdiction of last year's commissioner.

The 1998 ASUA elections code does not specifically state that a complaint must be issued to the appropriate commissioner, but Taylor said such an inference is "common sense."

"The interpretation is that any complaint needs to be filed within 24 hours of the election," she said.

Hill said he believes the 24-hour period begins when the complaint is filed, and it would be a mistake to not have an investigation.

The ASUA Senate last night approved a 98-day time limit for Klein to collect more than 3,400 signatures in a 6-2-2 vote, with Sens. Josué Limn and Ty Trujillo dissenting and Sens. Ben Graff and Mai Luc abstaining.

According to Taylor, the 98-day limit would allow Klein until Feb. 10 to collect the signatures needed to initiate a recall election.

Hill said he believes ASUA is moving slowly and attempting to postpone decisions so any possible recall election would be held next semester.

Graff said ASUA is acting responsibly, and he has seen no evidence the Senate is attempting to sweep the issue under the rug.

"I don't think anyone wants to put this off until next semester," Graff said. "We're here as part of checks and balances, and Anthony does need to be impartial."

Erin Mahoney can be reached via e-mail at Erin.Mahoney@wildcat.arizona.edu.