Shalala calls '911' for American Indian issues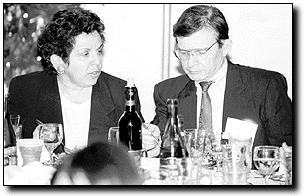 Matt Heistand
Arizona Daily Wildcat

Donna Shalala, secretary of Health and Human Services, speaks with President Likins during dinner Friday night at the American Indian health conference.


American Indian health and welfare policies need to improve, said Donna Shalala, the longest serving secretary of Health and Human Services in U.S. history.

"We must map out what we must do to improve the health care of Native Americans," said Shalala, a Democrat who has held the position since 1993.

She spoke to an audience of about 200 people Friday night at the Doubletree Guest Suites, 6555 E. Speedway Blvd. The speech was part of a three-day conference entitled "Native American Health and Welfare Policy in an Age of New Federalism," sponsored by the Morris K. Udall Foundation, the Henry J. Kaiser Family Foundation and the University of Arizona Udall Center for Studies in Public Policy.

Shalala condemned the federal government's approach to American Indian health issues.

"Washington has not been driven by a majority of thinking members - they are long on promises and short on promises kept," she said.

The federal funds channeled through Indian Health Services are not being increased fast enough to support the expanding American Indian population and meet the health-care needs of its recipients, Shalala said.

That is particularly devastating because American Indian suicide, alcoholism, diabetes, tuberculosis and infant mortality rates are higher than the rest of the U.S. population, she said.

Infant mortality rates are one and a half times greater for American Indians and diabetes is three times the national average.

"This is not an Indian problem," Shalala said. "This is an American problem."

"We are in a golden age of science in which people are living longer and healthier lives but the racial and ethnic minorities lag behind the rest of the country in good health care - this is unacceptable," Shalala said.

She called for a less centralized approach to funding Indian health care, with collaboration between tribes, states and the federal government.

"Protecting and strengthening the bridges of cooperation of the sovereign Indian nations and the states," Shalala said, will "bring people together and create the opportunity for tribal communities to work together."

While in office, Shalala said she has worked to direct tribal groups to produce their own health and welfare plans.

Last week, the first of four planned intertribal forums on health and welfare issues was held in Phoenix.

Over the past five years or so, Shalala has worked to strengthen the infrastructure of Indian Health Services, which reports directly to her - not the federal government as it has in the past.

"The kind of changes the president (Clinton) and I want won't come without listening and working with the Native Americans," she said.

UA President Peter Likins, who attended the speech, said American Indian health-care problems transcend university and state boundaries.

"These issues have an impact on Native American students at UA, but the health disparity is tragic for all Americans," Likins said. "It affects us all. I think students would want to have a broader interest in what affects all of us."

UA physiology junior Jaquita Whitethorne said rural communities face greater health-care neglect than the urbanized population because of their isolated locales.

"The resource facilities are low budgeted compared to the inner city," said Whitethorne, a Navajo who has lived on a reservation. "The hospitals look like the ones from the 1950s - old technology and equipment."

There are 10 million children in the United States without health insurance, many of whom are American Indians, Shalala said.

Whitethorne said she is caught in the middle of that dilemma.

"I make too much money for access to Indian health services but too little for private insurance," she said.

Chris Helms, executive director of the Udall Foundation, said the conference's goal is to bring American Indian issues to national attention.

The foundation provides scholarships to American Indian students and initiated the first American Indian internship program in Washington, D.C.

Shalala said solving American Indian problems requires, "collaboration, creativity and money," adding that she has requested the largest budget increase in the history of Indian health care.

"When it comes to health services we can have it all and we must have it all," she said.

Genevieve D. Cruise can be reached via e-mail at Genevieve.D.Cruise@wildcat.arizona.edu.